NevadaFIT first assignment
The following assignment is due August 14, 2021. This assignment will be completed on WebCampus. WebCampus is the branding of the University's learning management system, Canvas.
General information
WebCampus is compatible with most major, updated browsers. WebCampus will usually give you a message at the top of the screen if your browser is not compatible with the system. Chrome, Firefox, Safari are best.
You can access WebCampus on your mobile device. There are free apps for both iOS (Apple) and Android devices. Visit the App Store (Apple) or the Google Play Store (Android) and search for either Canvas Student or Instructure Canvas Student to find the app. Canvas Student is an app that will be pre-loaded onto your iPad.
For issues with WebCampus, MyNevada, or NetID/password problems, contact the IT Helpdesk or call (775) 682-5000. OIT will also be available at iPad distribution.
Assignment steps
Follow the steps below to complete your NevadaFIT 2021 first assignment.
Step 1: Activate your NetID
Visit NetID activation to activate your NetID.
Step 2: Log into WebCampus
Visit the WebCampus page
Click on the button labeled "Click here to login to WebCampus with your NetID
Enter your NetID and password
Click the "Sign in" button
Step 3: Navigate your dashboard (see screenshot below)
Upon logging in, you will see a course tile (1) for each of the courses you're enrolled in. Select the "NevadaFIT First Assignment" course tile.
If the NevadaFIT course tile is missing, click on the "Courses (2)" link on the blue sidebar, then select "All Courses." Click the "star icon" to select the courses you want on your dashboard and click on the NevadaFIT course.
If you still cannot find the NevadaFIT course tile, please email the NevadaFIT office at nevadafit@unr.edu to ensure you are enrolled in the class.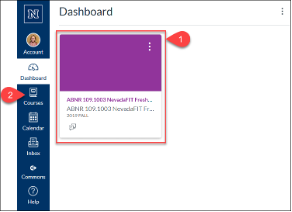 Step 4: Complete the Pre-NevadaFIT Assignment
Work through each of the modules on the homepage and submit the associated quizzes.

Pre-NevadaFIT Tasks
Digital Wolf Pack Initiative
University 101
Academic Integrity

To reduce the likelihood of technical problems:

Clear your browser cache and cookies
Take the quiz from a wired (not wireless) Internet connection. Avoid shared/free WiFi.
Plan to complete the quiz in one session.