News
Sign up for our newsletter
Submit newsworthy content
Music announcements
Graduate Student Angelo Monroy Wins Position in Emerald Coast Chamber Music Festival
March 25, 2021
By Sarah Coyl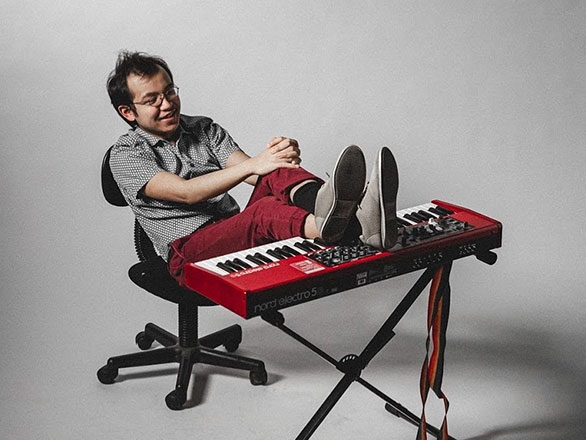 "My first real experience playing chamber music was a year ago. After I finished my bachelor's degree in Jazz and Improvisational Music at UNR, I wanted to broaden the scope of my studies at the University, and I wanted to be able to connect with another tradition of playing piano. Chamber music really interested me. I played the Dvorak Piano Quintet in A Major with the Nightingale String Quartet, the University's graduate quartet-in-residence. We unfortunately never saw the light of performance because of COVID-19.

"Still, the experience was really good. When you play piano in any group setting, it requires a certain degree of sensitivity and listening. You have such a wide dynamic range, and you have the potential to be an entire orchestra. Regardless of the setting, you have to be able to consistently listen and be sensitive to where you fit in all of it."
As a relative newcomer to the classical music world, Monroy had to contend with issues surrounding his perception.
"At first I felt like I'd never be able to shake the image of me being perceived as a jazz musician who plays classical music, which gave me a bit of imposter syndrome. I would worry about whether or not I'd be able to show up, because I lack a lot of the same personally formative experiences, like giving solo recitals or years of playing in chamber ensembles. I think relatively soon after, I stopped caring so much about it. In fact, I lean into it — there are already plenty of people who do that: Wynton Marsalis, Keith Jarret, Chick Corea."
He is looking forward to new experiences at Emerald Coast.
"I would like my experience to reflect genuine music-making and connection. I'd just like to have fun. If it ends up helping my career then that's great, but I think that if I use music as a vehicle to connect with others, then I'm not really concerned with certain outcomes. I want to show up prepared, be able to give it my best, and to just be able to cherish the experience of being able to connect with other musicians.
"One of my biggest gripes with how music is presented to musicians is the discourse around networking. I wish that 'networking' wasn't even a term in the first place, and I wish that it wasn't presented in a way that paints human interactions as purely transactional. I think that there can be added benefits attached to knowing someone, but that shouldn't be the focus. I hope the conversation shifts away from networking and connections, and towards cherishing the opportunity to make music with other people. All the things people want to get out of "networking" could be more easily achieved if they made that the focus."
Monroy takes stock of his identity as an Asian man studying Black music at a PWI (predominantly white institution).
"Navigating systemic racism has definitely been the big commonality I have found with all people of color. I think it's set me on a path of self-actualization, especially when a lot of these systems aren't tailored for my success. I often find myself as the most pronounced voice in the room, whether I like it or not. I try to figure out how to make things work for me, in how I play the music itself, what I choose to play, and how I carry myself as an individual. I think I end up circumventing a lot of traditional behaviors by virtue of who I am.
"Now more than ever, I believe that music is a social responsibility — especially when you're playing Black American Music or music from the African diaspora. I myself have a responsibility to take care of that music, to reckon with the blackness in the music, to be really truthful to what the music stands for. If you're gonna do it, you really have to learn how to speak the language, and learn the music really deeply as a sign of respect. For me, playing Black music especially is an honor, and I believe my responsibility will grow with me. Gerald Clayton, someone who I've been studying with recently, said the music will always humble you. I do feel constantly humbled. I have a deep reverence for the music. That's been a big mindset shift for me, learning the histories and traditions. It's not about me at all."
Monroy is very open about having ADHD; he shared how it affects his studies and musicianship.
"It makes practicing a very unique fixture within my life. A big part of having ADHD is that my brain is constantly seeking out sources of dopamine, be it through playing video games, playing music, or listening to music, food… but practicing is not often one of those immediate sources of dopamine. I am not inherently drawn there most of the time, and that's been a huge thing I've been constantly working towards. I only got it diagnosed last year — the diagnosis was the game-changer; it gave me the lens to see it for what it is. There are phases where if I can practice 30 minutes a day, that's the greatest victory.
"One great thing about having ADHD, and one reason I don't seek out stimulant medication is that I'm never short on ideas — whether I like it or not, I'm always thinking at the music from different angles and with new approaches. I don't have the same inhibitions as perhaps other people might have about finding their own voice, because my voice will make itself present, whether I like it or not. I'm always concerned as a musician about keeping things honest — translating my voice, with the instrument as a medium."
Monroy is a student of Dr. Hyeyeon Park, Dr. James Winn, and Adam Benjamin.
Graduate student Sashekia Brown scores double-win at NATS
February 23, 2021
By Sarah Coyl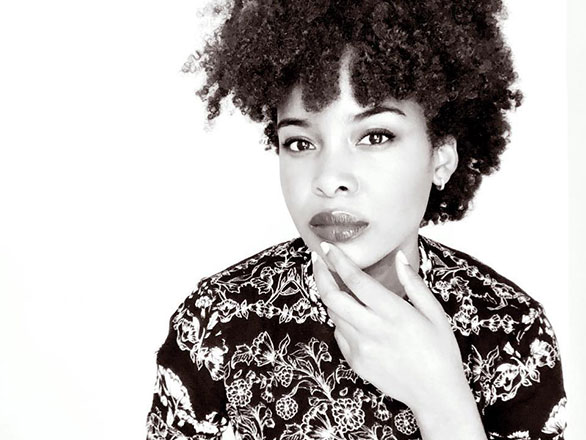 Congratulations to soprano Sashekia Brown, who just won first prize in two categories at the NATS competition (National Association of Teachers of Singing)! Given the state of the pandemic, she submitted recordings of her repertoire that went through a series of elimination rounds. She shared some of her thoughts on this new experience.

"There's something very gratifying about being able to share what I do with a live audience; I don't think anything compares to that — to be in dialogue with the audience. I really miss that and I feel like that really informs the performance."
Covid restrictions affected her preparation process as well.
"A lot of this music was new to me. In normal times we have lunch hour concerts and performances to help us mark our progress; in this kind of situation it's like we're preparing the music in a vacuum… it was an exciting and challenging experience but I'm very happy that I was able to do it."
Between the two categories, which were "advanced treble," matching her level of study and an open category, Brown sang a mix of standard repertoire and Spirituals.
"I really enjoyed the set I did for the general category because I was able to include music from Black composers, specifically Women of Color, and that's something that I care about so it was nice for me to be able to do that. Undine Smith Moore and Jacqueline Hairston are two of my favorite composers, so I really jumped at the opportunity to prepare the music and to share some of that music with a wider audience.
Brown selected repertoire with the goal of challenging herself.
"There was a new spiritual that was really challenging: Sinner, Please Don't Let This Harvest Pass (arr. Damion Sneed); as with a lot of the refining work I'm doing with Dr. Albert Lee, I'm getting the mechanism to work in a more fluid way. Doing that one was a real test for me to be able to get all of the things to work, in a step by step way. The french aria Je Suis Titania (from the opera Mignon by Ambroise Thomas) was really challenging because it's very long and the tesitura is high, and there are a lot of moving parts; it required a lot of focus. That one really challenged my focus in addition to my voice and my technique."
Brown moved from St. Elizabeth, Jamaica to study with Lee.
"My teacher at NCU (Northern Caribbean University) had worked with Dr. Lee in Italy on an opera together; they kept in contact as colleagues and Dr. Lee came to my school and gave a recital; his programming and singing was so wonderful. I had a masterclass with him, myself and two other students. When I was looking at teachers I wanted to study with (for grad school), I reached out to him to let him know I was interested and had the University of Nevada, Reno on my list. I felt that coming here would be the best decision and I would get lots of strong pedagogical support, and I don't regret that.
"In addition to working with Dr. Lee, I have a language coach (Dr. Daniel Fung). The combination of working with Dr. Lee and Dr. Fung has definitely helped me to grow as an artist and it helps me to view music in a different way. All of my classes here have actually been like that — they've helped me feel more open minded and I really enjoy that."
With an already impressive resume, Brown has passionate goals for her music career.
"I enjoy performing a lot and as long as there are opportunities for me to perform and to be actively engaged in the music making process, I want to do that. I want to be performing recitals and operas. I also think that it's important to bring music education and performances to communities that don't have ready access to things like that. I know for me, when I was in Jamaica and looking around to see if there were other people doing the things that I was doing, there were a few, but there weren't a whole lot of people. So between performing music that matters and that I care about, in addition to also performing stuff from the canon and from the standard repertoire, I would also like to feel as though I am making a contribution to something; performing, recording, sharing music that is not always heard."
In regard to recording, Brown aims to give Black composers the attention they have been denied.
"There's another competition that I'm preparing for right now — the George Shirley Competition — and one of the requirements is for you to sing an aria from an opera or oratorio composed by an African American. It was a little challenging for me to find recordings of a lot of these arias, so that would be a gap that I'd be interested in filling. I also have interest in performing and recording music composed by other Jamaicans."
Hear Sashekia's Submission of "Je suis Titania la blond" from the opera Mignon by Ambroise Thomas.
Sashekia is a student of Dr. Albert Lee.
Music news stories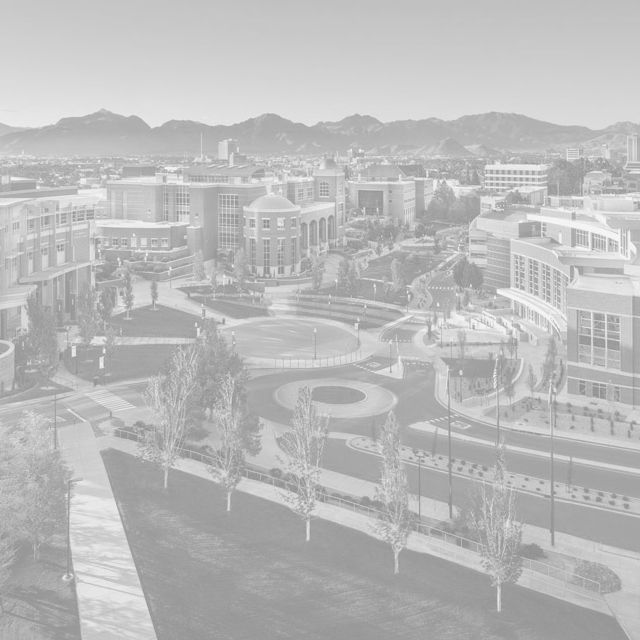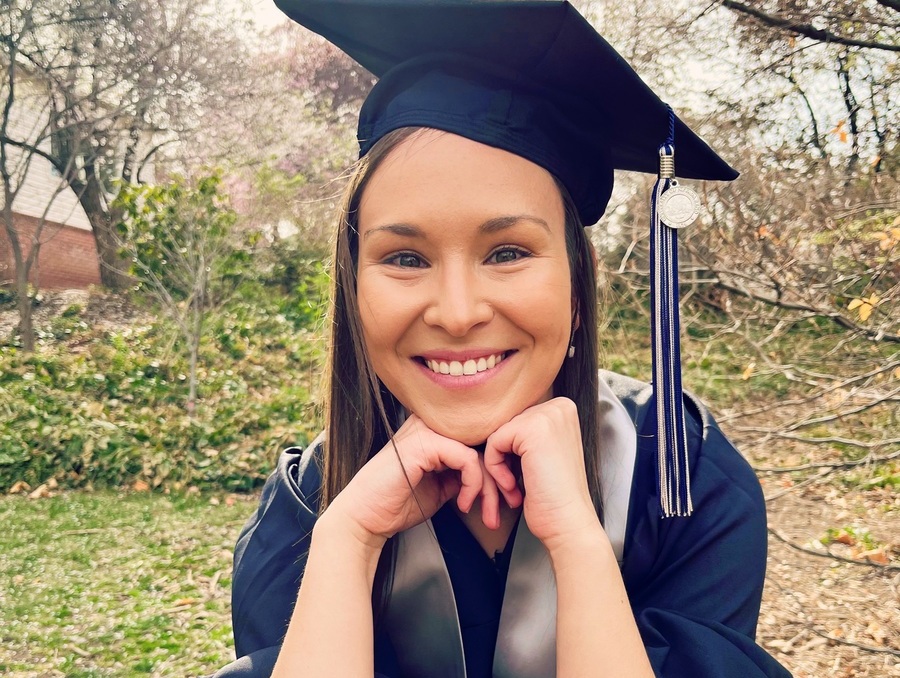 Nicole Shepherd is Herz Gold Medalist
Dual degree student a standout volunteer in community and accomplished musician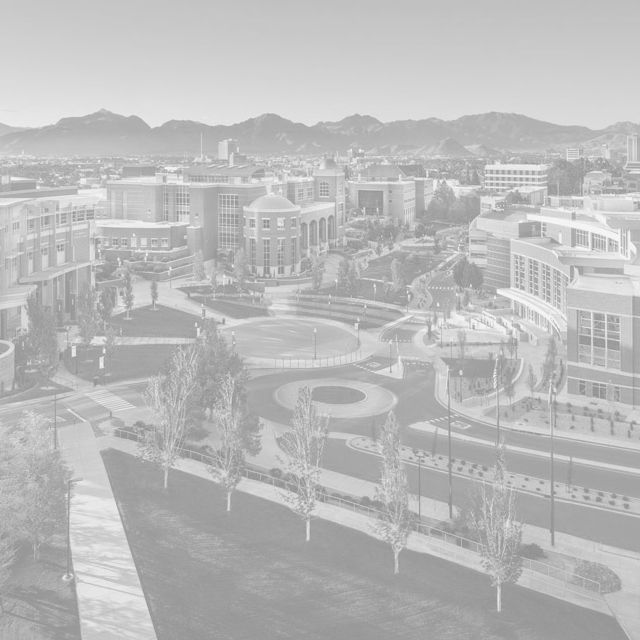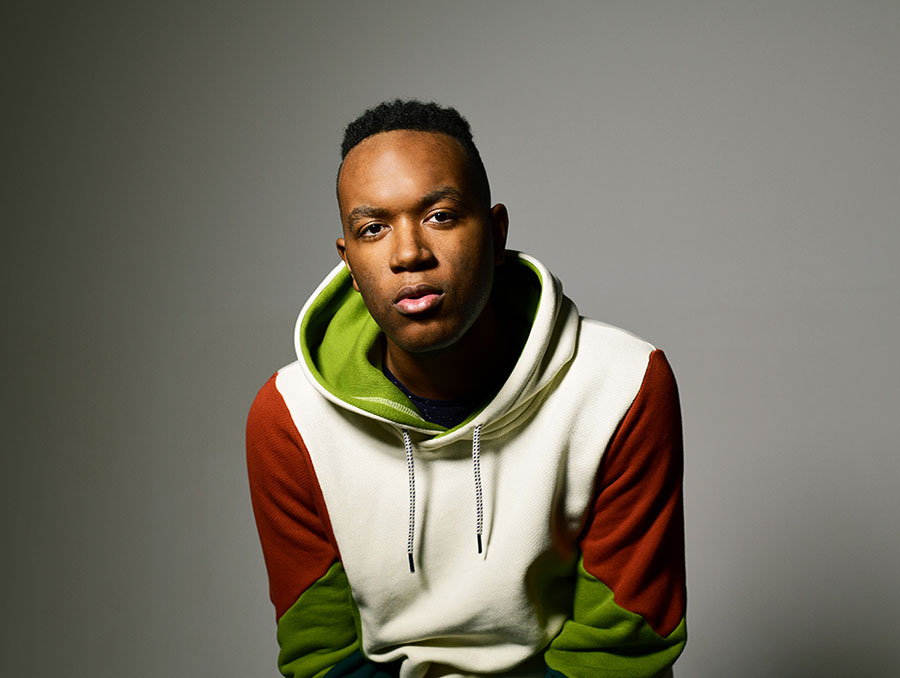 Arts spring lineup chalked full of historically-relevant and modern-day surprising performances
The School of the Arts has a number of exciting performances in visual art, dance, music and theatre that you don't want to miss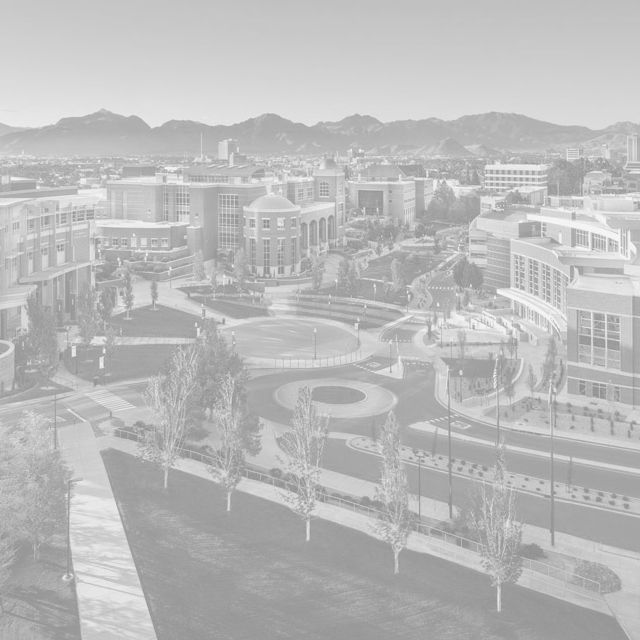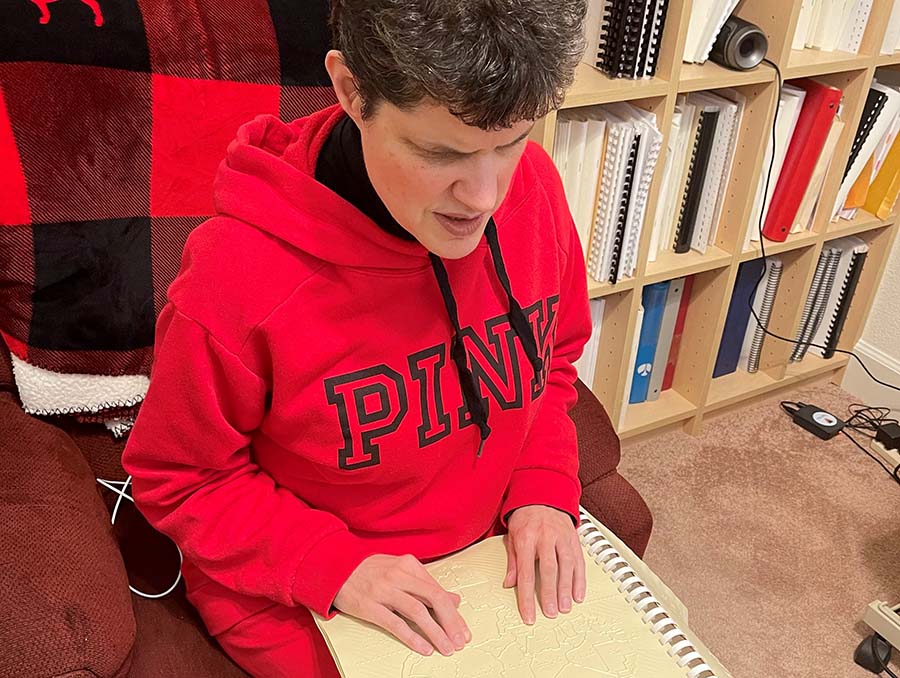 Faces of the Pack: Recognizing Jeanine Mooers on World Braille Day
University alumna, Braille proofreader and now software accessibility tester is inspired by her love of Braille and for access technology