Jump to a featured student:
April 2022 featured student: Ilaria Vinci
Doctoral student in Statistics and Data Science (Graduated 2021)
---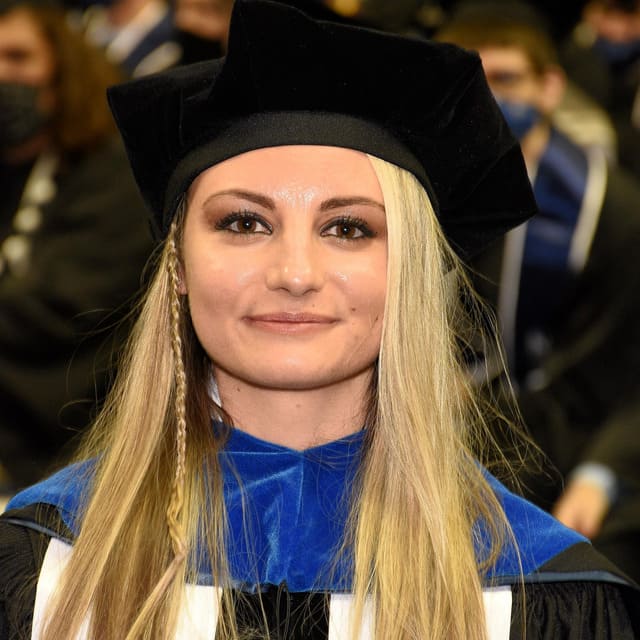 Ilaria Vinci recently graduated with a Ph.D. in Statistics and Data Science and is now working at the University as a mathematics and statistics instructor. While completing her doctorate, Ilaria's research was focused on distribution and extreme value theories, specifically, peaks over the threshold. The innovative generalized linear models (GLM) that Ilaria developed were first applied to engineering problems related to energy peaks and their direct impacts on the state and national estimates of energy reserves. For healthcare, applications include the modeling of the weight of newborns and their predicted life expectancy. Ilaria believes research and innovation are the keys to building a better society and an environment for all to live in.
Ilaria earned a Bachelor of Science in Civil Engineering from the Tor Vergata University of Rome. After completing her bachelor's degree, Ilaria moved to the US and earned her Master of Science in Civil Engineering in December 2016 from the University of Nevada, Reno. Ilaria joined the Statistics and Data Science Ph.D. Program in 2017, hoping to work on interesting real-world engineering problems. Ilaria truly believes her research in data science applied to climate change will have a substantial impact not only in her field but also in other areas. We are developing machine learning (ML) models to observe and forecast climate change phenomena using these new scientific methods. The danger of irreparably harming the ecosystem is real; hence, it is our duty to preserve and defend this amazing planet.
During her time, Ilaria was involved in several student clubs, including Secretary, Treasurer, and Co-Founder of the SIAM Student Chapter at the University of Nevada, Reno. The SIAM Society for Industrial and Applied Mathematics is an organization with chapters worldwide. The goal of SIAM is to promote research that will lead to effective new mathematical and computational methods and techniques for science, engineering, industry, and society. Activities included talks and presentations from professors from several Universities (Arizona, California, Colorado, Nevada, Oregon, and Utah) and representatives from the industry. During her graduate student career, Ilaria won several scholarships and awards, including The Graduate Deans Merit Scholarship, GSA Outstanding Teaching Assistant Award, GSA Outstanding International Graduate Student, GSA Outstanding Graduate Student, the GSA Outstanding Graduate Student in Spring 2021, Saber Abdel Ghafer Scholarship, and The Ben Beatrice Edwards Math Scholarship. In the Summer of 2019, Ilaria was chosen to attend a summer research school in Applied Mathematics and Computational applies to climate change at the University of Reading (UK). Outside of studies, Ilaria enjoys hiking the Great Basin and going to the gym. Ilaria's advice for new graduate students is to work hard and never lose hope no matter how difficult times may be. Persistence and hard work will always help overcome difficulties. It is also essential during your graduate and undergraduate career and in life, in general, to learn how to become a good team player. Relying on good friends and colleagues is another crucial element for your success, good health, and happiness.
Publications
Truncation Models for Pareto and Exponential Distributions with Applications Vinci, Ilaria. University of Nevada, Reno, ProQuest Dissertations Publishing, 2021. 28868368. (https://www.proquest.com/pagepdf/2629021751?accountid=452)
March 2022 featured student: Xiang Xiang Wang
Doctoral student in Mathematics
---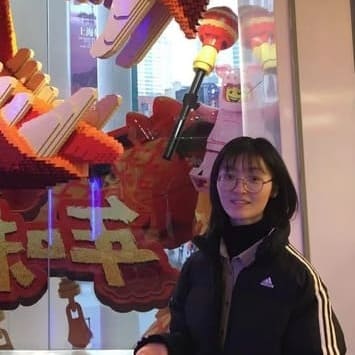 Xiang Xiang Wang is a Ph.D. student under the advisement of Tin-Yau Tam, Department Chair and Professor of Mathematics & Statistics. She is the recipient of the Graduate Dean's Merit Scholar Award as well as a GSA Research Award. Xiang Xiang earned her master's in statistics from Shanghai University. Her research focuses on using the Matrix theory in application development.
She has a keen interest in teaching and sharing the broader applicability of math across many fields with her students – which is why it isn't surprising that after graduation, Xiang Xiang hopes to become a math professor.
Outside of academics, Xiang Xiang enjoys swimming, running and badminton. Her advice for graduate students is to, "take time for yourself, go for a walk and do something outside of school."
January 2022 featured student: Nikhil Dhabarde
Doctoral candidate in Chemicals and Materials Engineering
---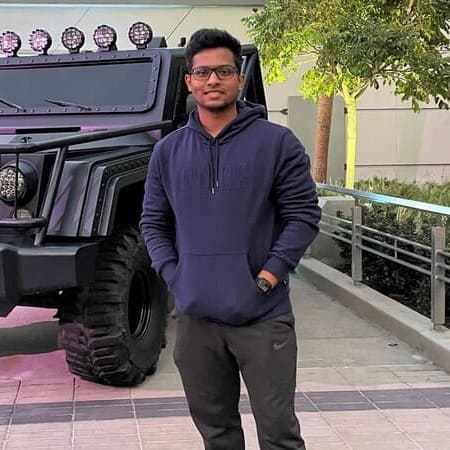 Nikhil Dhabarde is a Ph.D. candidate in the Chemical and Materials Engineering Department. Nikhil completed his master's in Chemical Engineering at the National Institute of Technology, Rourkela, India, and his Bachelor's in Petroleum Refining and Petrochemical Technology at the Laxminarayan Institute of Technology in Nagpur, India. Prior to joining the University of Nevada, Reno, he also worked as a deputy manager at Development Alternatives Group, supporting a product development team in materials research. At the University, Nikhil's research focuses on developing multifunctional inorganic nanocomposites for light-mediated applications. He is currently working on collaborative projects based on these applications such as photocatalytic hydrogen peroxide (H2O2) production from water, photocatalytic virus (COVID) inactivation, and photo-electrochemical conversion of CO2 to value-added chemicals.
Nikhil is grateful to all his mentors, especially Dr. Ravi Subramanian, not only for his motivation and guidance throughout his graduate career but also for providing Nikhil with the opportunities to lead collaborative and multidisciplinary projects. Besides performing research work, Nikhil also enjoys mentoring high school and undergraduate students with hands-on lab experience as well as grant proposals and publications writing. Nikhil's mentees won the competitive NSF EPSCoR Undergraduate Research Opportunity Program (UROP) and many Nevada Undergraduate Research Awards (NURA). Some went on to graduate school. Nikhil is a two-time Graduate Dean's Merit Scholar. Nikhil is also a recipient of the Graduate Student Association (GSA) Research Materials Grant as well as GSA Travel Awards. Nikhil has authored and co-authored three publications during his time at the University and a few more in the pipeline.
Grad school could be demanding, but Nikhil works hard to maintain a balance. He keeps up with his fitness and has some fun being involved on campus. Nikhil is the current president of the graduate Chemicals and Materials Engineering society (gCHEMATEs). He is the founding member of a hiking club (FALCON) and the International Foodie Club (IFC). Cooking or exploring the wilderness or indulging in Marvel films are some other ways for Nikhil to de-stress and relax. Imposter syndrome, especially in grad school, is a real thing, he acknowledged; and at times, the journey can feel challenging and lonely, but GSA and his University peers are an incredible safety net helping him persevere. Upon graduation, Nikhil wishes to explore opportunities in the industrial setting. His advice for current and prospective graduate students is to effectively communicate, collaborate, and attend conferences to broaden their horizons towards learning and solving problems.
Recent publications:
Dhabarde, N., Carrillo-Ceja, O., Tian, S., Xiong, G., Raja, K., & Subramanian, V. R. (2021). Bismuth Vanadate Encapsulated with Reduced Graphene Oxide: A Nanocomposite for Optimized Photocatalytic Hydrogen Peroxide Generation. The Journal of Physical Chemistry C. https://doi.org/10.1021/acs.jpcc.1c05315
Khaiboullina, S., Uppal, T., Dhabarde, N., Subramanian, V. R., & Verma, S. C. (2021). Inactivation of Human Coronavirus by Titania Nanoparticle Coatings and UVC Radiation: Throwing Light on SARS-CoV-2. Viruses, 13(1), 19. https://doi.org/10.3390/v13010019
November 2021 featured student: Katie Snider
Doctoral student in Interdisciplinary Social Psychology
---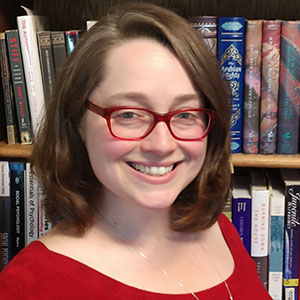 Katie Snider is currently a Ph.D. candidate in the Interdisciplinary Social Psychology Program and is under the advisement of Shawn Marsh, Director of Judicial Studies. Katie earned an Associates's Degree at the Community College of Vermont and a bachelor's of psychology with a minor in Political Science from the University of Colorado Colorado Springs. She was initially interested in a psychology and law program, and the Social Psychology Program at the University of Nevada, Reno had the Sociology piece that others were missing. Katie is interested in program evaluation and hopes to go into program evaluation either at the government level or a private research firm. She particularly enjoys working with clients to understand their research needs and fitting evidence-based programs to a specific community's needs might not always work. Katie reveals the importance of evaluating programs based on program goals, to see if the program can deliver on their end goals. Katie has particularly enjoyed working on evaluation projects with early diversion and jail re-entry programs in Northern Nevada. Re-entry programs make sure that when people are being released, they are being set up for success. Katie has co-authored several journal articles, as well as technical, reports Her most recent publications to include Shame and justice: Partners of individuals on sex offense registries encourage policy reform and Judges; emotion: An application of the emotion regulation process model. The focus of her dissertation is on the lived experiences of parents who have a child in juvenile detention. Katie's advice for graduate students is to work backward from your end goal and to put yourself in a position to get the experience you need. Katie will leave the University of Nevada, Reno with applied research experience and many connections, whose value is immeasurable. Katie looks forward to future collaborations with her fellow students and faculty as she moves forward in her career.
October 2021 featured student: Ian McDowell
Doctoral student in Hydrological Sciences
---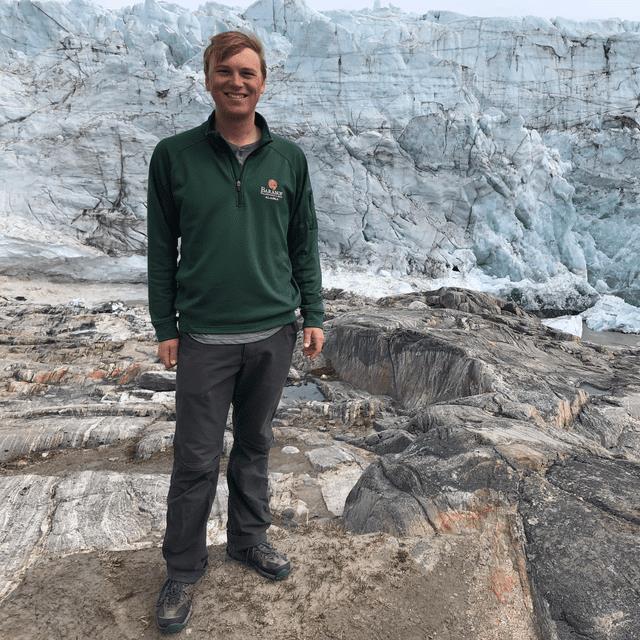 Ian McDowell is a Ph.D. student in the Graduate Program of Hydrological Sciences whose research focuses on what happens to water when the ice melts in locations on ice sheets that have previously melted very little.
He is currently focused on examining where meltwater goes that originates on the Greenland Ice Sheet. It is a given that as surface temperatures continue to warm, more areas of ice sheets will melt. What is unknown is how long it takes water to reach the ocean and whether some of this water is stored permanently within or underneath the ice sheet.
Answering these questions will help climate scientists predict how much and how fast the sea level will rise from melting ice sheets. Ian has already completed three month-long fieldwork experiences in Greenland during his master's degree in Glaciology at the University of Wyoming. Ian earned his bachelor's from Bowdoin College in Brunswick, Maine. After a study abroad trip to Greenland and earth science classes during his undergraduate career, he was drawn to how much was still unknown about ices sheets and knew he wanted to study how ice moves and melts.
After Ian completes his Ph.D., he would like to continue teaching. Ian has been a TA for five years and enjoys it when students get excited about particular science questions. Besides being an accomplished researcher, Ian was also selected as a 2021 GSA Research Grant Recipient. This year Ian will be presenting at the American Geophysical Union in New Orleans, Louisiana which will unite earth and space scientists and students from around the world. At the University of Nevada, Reno, Ian has published two papers including one with his advisor, Kaitlin Keegan.
Ian's advice for graduate students is to set working boundaries because being a graduate student is a full-time job. It is imperative that graduate students find time to recharge their batteries. In addition, graduate school can sometimes feel lonely and isolating, so it is important to communicate with other graduate students to establish a support network and community. In his spare time, Ian enjoys the outdoor actives that the Reno-Tahoe Basin has to offer such as hiking and skiing.
Publications
McDowell, I. E., Humphrey, N. F., Harper, J. T., Meierbachtol, T. W. (2021). The cooling signature of basal crevasses in a hard-bedded region of the Greenland Ice Sheet. The Cryosphere, 15(2), 897.
McDowell, I. E., Albert, M. R., Lieblappen, S. A., Keegan, K. M. (2020). Local Weather Conditions Create Structural Differences between Shallow Firn Columns at Summit, Greenland and WAIS Divide, Antarctica. Atmosphere, 11(12), 1370. https://doi.org/10.3390/atmos11121370
September featured student: Isadora Batalha
Doctoral student in Animal and Rangeland Science
---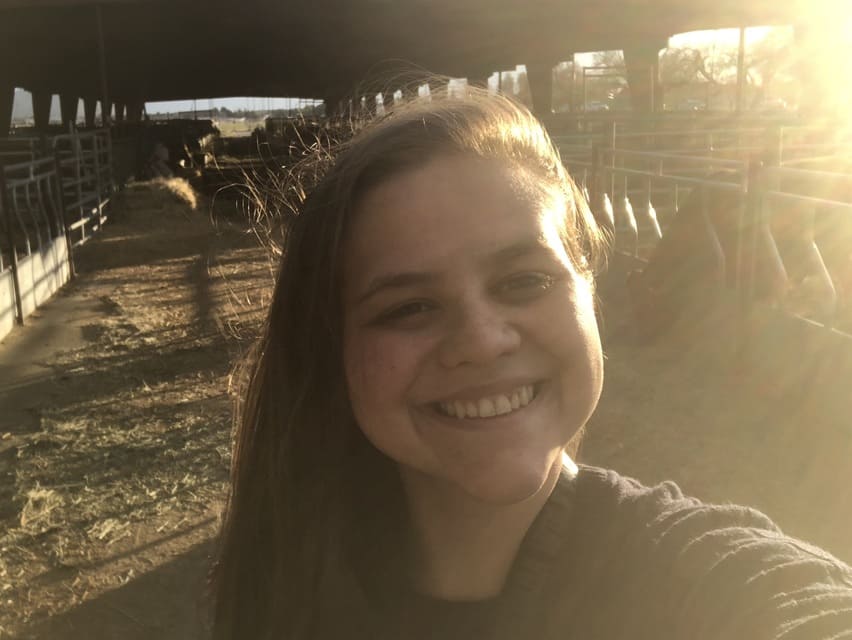 Isadora Batalha earned her Bachelor of Veterinary Medicine from Universidade Federal de Vicosa in Brazil before relocating to Reno. Here, she graduated with her master's in Animal and Rangeland Science and decided to continue her research as a Ph.D. student in the same program.
Under the advisement of Dr. Luis Fernando Schutz, her research aims to demonstrate how nutritional factors can impact the reproduction of cattle via epigenetics mechanisms. As part of her graduate assistantship, she has taught numerous courses on campus including VM328 - Veterinary Physiology and Applied Anatomy, Introduction to Veterinary Medicine, and lab sections for other faculty's courses.
Isadora has fallen in love with teaching, and it shows! She was recently awarded the Outstanding Teaching Assistant Award and says she hopes to continue teaching after graduation.
Her master's project was conducted in collaboration with Dr. Spicer's Lab at Oklahoma State University. As a result of this collaboration, she co-authored a paper titled, "Discovery of a possible role of Asprosin in ovarian follicular function." This research is significant because it can be used to improve animal health and impact the lives of human beings. Findings from this research can be used to support Asprosin research in human medicine. Isadora has been part of several other research projects at the University which generated four conferences abstracts so far.
Isadora's advice for graduate students is to try and find some time for themselves because graduate school is intense. "Taking time for mental health is very important in graduate school, and sometimes it's hard to maintain the work-life balance," she says.
August 2021 featured student: Paschal Apanga
Doctoral Candidate in Public Health
---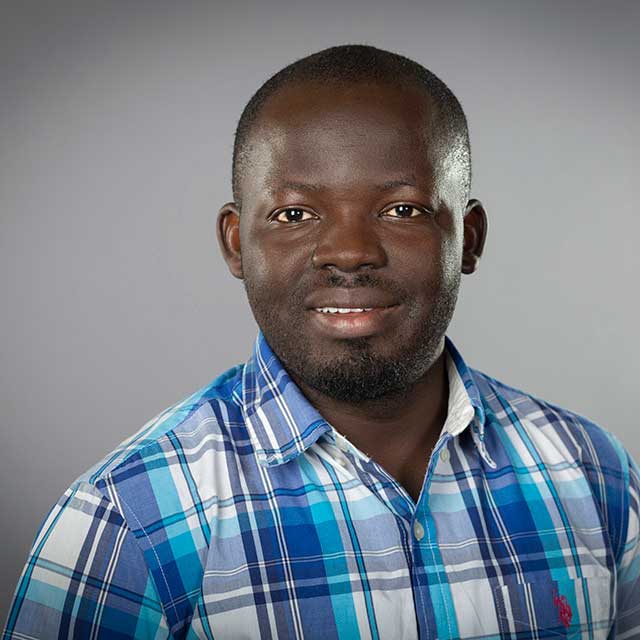 Paschal Apanga is a Medical Doctor from Ghana and a Ph.D. Candidate in the Public Health Epidemiology Program at the University of Nevada, Reno. Prior to beginning the Ph.D. Program at the University of Nevada, Reno, Paschal completed a Master of Public Health (MPH) degree in the United Kingdom.
Under the advisement of Dr. Joshua Garn, Paschal is examining the impact of breastfeeding practices, sanitation, and hygiene interventions on maternal and child health outcomes. While at the University of Nevada, Reno, Paschal has served as a Graduate Teaching Assistant for four semesters. He has also taught the CH473: Epidemiology course as an instructor for two semesters. Paschal has impressively published 30 peer-reviewed papers with 350+ citations so far, with 18 being written during his scholarship at the University of Nevada, Reno. Paschal was the lead author in 20 of his 30 published papers.
Paschal recently published papers on COVID-19 in the American Journal of Tropical Medicine and Hygiene, including "Practice of COVID-19 Preventive Measures and Its Associated Factors among Students in Ghana," and, "Adherence to COVID‐19 preventive measures and associated factors among pregnant women in Ghana." You can view Paschal's publications on Google Scholar.
Paschal has been the recipient of several awards, including the GSA Outstanding International Graduate Student Scholarship for three consecutive years; the Graduate Dean's Merit Scholar Award; the School of Public Health Scholarship; and most recently, the School of Public Health's Doctoral Student of the year — a highly coveted honor. Future plans for Paschal include the continuation of conducting research and mentoring students at a university or research institution interested in Public Health. Paschal's advice for graduate students is to get in touch with faculty any time they encounter a problem, as faculty are very approachable and helpful. In the beginning, Paschal struggled to grasp many things but with determination and the help of the faculty, Paschal was able to overcome these hurdles. When not completing research or studying, Paschal enjoys spending time with his wife and two children.
June 2021 featured student: Megan Winegardner
Master's student in Fine Art
---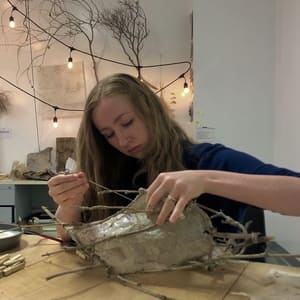 Megan Winegardner earned her Bachelor of Fine Arts from Southern Adventist University, a campus located in the lush, green hills of Collegedale, Tennessee – and then followed the footsteps of some of the world's most renowned land artists to the semi-arid far west. A Masters of Fine Arts student at the University of Nevada, Reno, Megan Winegardner is here to both study and be surrounded by her primary focus: land arts.
Land art, the movement associated with marking, sculpting and engaging with the earth itself, is especially prevalent in the wide-open, blank canvas deserts of the American southwest. Some nearby examples include Robert Smithson's Spiral Jetty of 1970 located in the Great Salt Lake and Ugo Rondinone's Seven Magic Mountains that was installed in 2016 near Jean Dry Lake in Nevada.
The Nevada Art Museum boasts both permanent and visiting land art exhibitions, as well as a well-established Land Arts library. The land arts resources and prevalence in the regional art scene and museums were ultimately a deciding factor Megan in deciding to attend the University of Nevada, Reno.
Megan's area of concentration focuses on memory as it is "at the core of everything," she says. Specifically, Megan is exploring tangible memory in artwork. She explains that going to art shows is a chance for an artist to showcase their research in a tangible form. Megan works closely with committee chair Tamara Scronce and her advisor Mia Hannon. Megan successfully completed her Midway Advancement Candidate Show here on campus – which was both an opportunity to present and articulate her work – and a Master of Fine Arts program requirement to earn promotion from "student" to "candidate" status. She also recently received the 2021 GSA Outstanding Continuing Artist Scholarship.
Megan is interested in teaching after graduation as it is a great way to stay connected with other artists. Residency is another interest that Megan has, as it allows an artist to complete specialized research in a specific location. Megan hopes to go to Dead Horse Bay located in New York as it's fascinating to see intimate objects from our past.
Megan's advice for graduate students is to, "not put too much pressure on yourself prior to situating yourself with your cohort and professors." Megan acknowledges Mona Hatoum and Delores Doris Salzedo as her favorite artists, who also focus on traumatic memory in their work. In addition to being a graduate student, Megan is involved with a nature program that helps children spend time outdoors looking at nature in fine detail. Recently Megan made face masks for a women's shelter utilizing memorial objects as a concept.
You can view Megan's portfolio on her personal website.
May 2021 featured student: Francisco Reinosa Segovia
Doctoral candidate in Clinical Psychology
---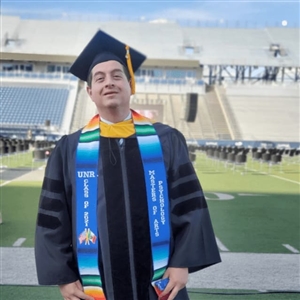 Francisco Reinosa Segovia is a fourth-year Ph.D. student in Clinical Psychology at the University of Nevada, Reno. Born and raised in Mexico City, he served for one year as a Mexican military cadet – hoping to one day fight off cartels – before migrating to California in pursuit of knowledge. There, he impressively worked his way up from custodian, to community college student, to University of California, Los Angeles (UCLA) graduate. While studying at UCLA, Francisco was profiled by student paper the Daily Bruin – a great read if you'd like to learn more about how he got there and what motivated him.
Francisco is the kind of person who works hard to succeed as a first-generation and underrepresented college student – and he works just as hard to leave the light on and the door open for others behind him. Applying to graduate programs was a challenging and sometimes discouraging process. His experience inspired him to co-author a guide for underrepresented students applying to graduate programs in clinical psychology during his time at UCLA – a guide that was adopted by their Psychology Department. His success as a first-generation student has not gone unnoticed at the University. Francisco was recently selected as a 2021 Milton Glick Memorial Scholarship recipient.
Today he is working with his advisor, Dr. Lorraine Benuto, Assistant Professor of Psychology, on a grant-funded project that aims to provide services to victims of domestic violence and other traumatic experiences. Francisco uses his native language to provide psychotherapy and help underserved individuals in the Reno-Sparks community. He admits that the research is lacking in getting services to underrepresented communities. Through dissemination and implementation, Francisco hopes to bolster research in this area while providing tangible services and healing to victims. This experience is preparing him for his ultimate goal of becoming a research-active clinical psychologist.
Francisco credits his advisor, Dr. Benuto, with having the biggest impact on his education, as she has been able to provide unique hands-on mentorship experiences and supervision. The University is situated in a place where there are many underserved communities, particularly in the Washoe Valley area. When the pandemic began, they were unable to see clients in person and began offering services via telehealth. The ability to offer remote services expanded both the program's client capacity and overall impact.
For his dissertation, Francisco is focusing on the delivery of services to Spanish-speaking clients experiencing depression. This is the first such study conducted using telehealth.
Francisco leaves the following advice for prospective graduate students:
"Regardless of the challenges that you are experiencing, it is important to continue being resilient and not get discouraged from your ultimate goals. The first time I applied to Ph.D. Programs in Clinical Psychology, I didn't get in. So I tried again and applied at the University of Nevada, Reno, where I was accepted – and my research interests turned out to be a great fit for the department and community. So if it doesn't work out for you the first time, do keep trying!"
April 2021 featured student: Angie Bradley
Doctoral candidate in Educational Leadership
---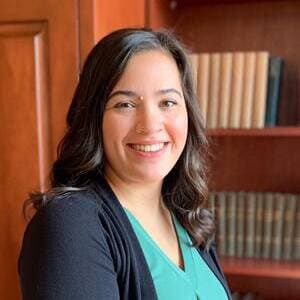 Angie Bradley completed her master's degree in College Student Affairs at Eastern Illinois University and was then hired as our Assistant Director of Residential Education for the Residential Life and Housing Department.
Returning to an academic environment and working with resident students inspired her to continue to pursue her own research interests. She is now a doctoral candidate in our Educational Leadership Program, conducting research involving students within the University's Living Learning Communities. In particular, she is looking at how the sense of belonging among Students of Color is impacted by their participation in our Living Learning Communities and programs. As a co-investigator with Dr. Cynthia Alcantar, Angie is also conducting a study on underrepresented students and access to college opportunities.
Angie had initially aspired to attend veterinarian school after getting her bachelor's degree. When it came time to apply, she struggled to write her personal statement and found herself doing some soul-searching about what path she really wanted to take. As an undergraduate resident assistant and orientation leader who loved being on campus and working with students and educators, she couldn't imagine giving that up. Her mentor pointed her in the direction of educational leadership and administration.
Angie's dream job would be to teach future practitioners and continue to engage in research. She finds teaching and research mentoring to be personally rewarding.
She offers the following advice to current and prospective graduate students:
"Find your people. Anyone who is thinking of getting their doctorate should reach out to their mentors. Students don't have to go through it alone and reaching out and asking for help is so rewarding. Grad programs are very challenging, and you just can't do it alone. Reaching out to family, friends, and classmates is critical to being successful in the program."
In the next few weeks, Angie will be transitioning into the NevadaFIT Program, pursuing her passion for helping students feel like they belong here and "they've got this."