Jump to a featured student:
April featured student: Angie Bradley
Doctoral candidate in Educational Leadership
---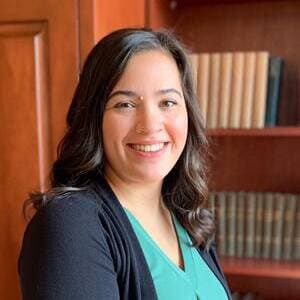 Angie Bradley completed her master's degree in College Student Affairs at Eastern Illinois University and was then hired as our Assistant Director of Residential Education for the Residential Life and Housing Department.
Returning to an academic environment and working with resident students inspired her to continue to pursue her own research interests. She is now a doctoral candidate in our Educational Leadership Program, conducting research involving students within the University's Living Learning Communities. In particular, she is looking at how the sense of belonging among Students of Color is impacted by their participation in our Living Learning Communities and programs. As a co-investigator with Dr. Cynthia Alcantar, Angie is also conducting a study on underrepresented students and access to college opportunities.
Angie had initially aspired to attend veterinarian school after getting her bachelor's degree. When it came time to apply, she struggled to write her personal statement and found herself doing some soul-searching about what path she really wanted to take. As an undergraduate resident assistant and orientation leader who loved being on campus and working with students and educators, she couldn't imagine giving that up. Her mentor pointed her in the direction of educational leadership and administration.
Angie's dream job would be to teach future practitioners and continue to engage in research. She finds teaching and research mentoring to be personally rewarding.
She offers the following advice to current and prospective graduate students:
"Find your people. Anyone who is thinking of getting their doctorate should reach out to their mentors. Students don't have to go through it alone and reaching out and asking for help is so rewarding. Grad programs are very challenging, and you just can't do it alone. Reaching out to family, friends, and classmates is critical to being successful in the program."
In the next few weeks, Angie will be transitioning into the NevadaFIT Program, pursuing her passion for helping students feel like they belong here and "they've got this."
March featured student: Drew Levy
Doctoral candidate in Geological Sciences and Engineering
---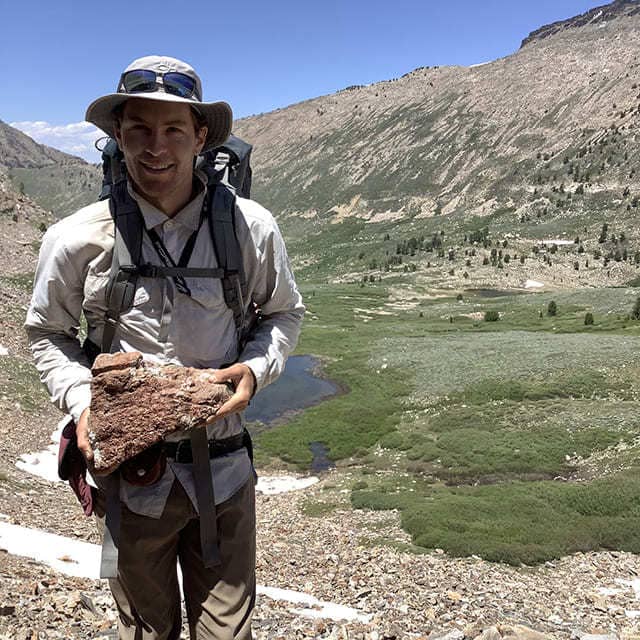 Drew Levy is a fourth year PhD student in the Department of Geological Sciences and Engineering who is investigating the geological evolution of Nevada over the last 200 million years. This work sets the foundation for geologists studying faults and earthquake hazards in Nevada, as well as geothermal and mineral resources across the state. Drew's interest in Geology began during his undergraduate career at the University of California, Los Angeles (UCLA). During his first geology class at UCLA, he realized geology offered the opportunity to study science in the outdoors and apply chemistry and physics to understand the environment we live in. The majority of his research is centered in the Ruby Mountains of eastern Nevada where he uses geochronology to determine the formative timelines of igneous and metamorphic rock.
Drew has an impressive research record boasting more than $20,000 in grants from the Geological Society of America, with a little help from the Graduate Student Association at the Unviersity of Nevada, Reno. He was recently published in the Geological Society of America Bulletin and has co-authored papers in six additional publications.
As a doctoral student, Drew strives to connect those with overlapping research interests within the local graduate community. Geosciences are broad ranging – and sometimes students and researchers unintentionally work in silos. That's one of the reasons Drew helped to form the University's first Student Association of Geosciences and Engineering (SAGE). SAGE organizes a bagel and coffee hour to encourage students in geosciences to come together. SAGE is something he is very passionate about and hopes to continue after the COVID-19 Pandemic. "There are so many benefits of having an organization like SAGE present on campus, and one is making sure students are supported and feel valued as members of our community," he says.
After graduation, Drew would like to continue working in academia where he can share the joys of fieldwork with students and continue to conduct research. His advice to fellow graduate students is to "embrace more than just research – there are many valuable experiences that can be gained by becoming involved in the graduate community. No matter your career path, your people skills will always be very important." He says it is also crucial to take time for yourself and not to miss out on the nature-based experiences that the Reno-Tahoe area has to offer.
February featured student: Irem Sevindik
Doctoral student in Economics
---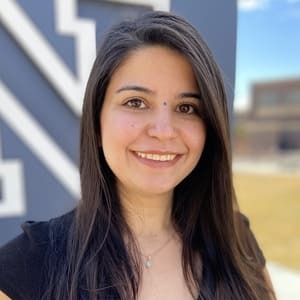 Irem Sevindik is a second year PhD student in the Economics Department at the University of Nevada, Reno. She received her B.S. in Industrial Engineering from Bilkent University, and MBA from Ankara University, both in Ankara, Turkey. When looking for a graduate program in her specific area of interest, she discovered that the Nevada had exactly what she was looking for. A campus tour featuring enthusiastic faculty, a gorgeous campus, and a unique natural environment sealed the deal for her.
Irem is specializing in Financial Economics and Renewable Energy Economics and is serving as a teaching assistant in the Economics Department. She became interested in economics after realizing she wasn't attracted to manufacturing, but wanted work in the finance field and utilize her mathematical and optimization skills. With a PhD, she feels her career options will be endless.
While she enjoys teaching and research, she is also interested in corporate roles that focus on renewable energy. Irem published a paper titled In Analysis of Turkey's Solar PV Auction Scheme: What can Turkey learn from Brazil and South Africa in January. This paper was featured in the Energy Policy Journal, a top-25 journal. In the paper, they examined the auction schemes for renewable energy in Turkey; measured the profitability and vulnerability of solar PV technologies to macroeconomic shocks and financial risks; and made policy recommendations for Turkey by comparing the auction scheme with those of Brazil and South Africa. The project was completed solely by Irem and another student, without the assistance of faculty.
Irem also presented a paper at the IRES International Conference on Economics and Social Science in Los Angeles California. Her presentation – How is wind energy changing the price dynamic in Turkish Power Market? – won the Excellent Paper Award, a highly coveted honor within the field. Irem was also awarded the distinguished Neslihan Aybek Memorial Scholarship, and more recently, the Outstanding Graduate Student Scholarship.
Her advice for fellow graduate students: "Graduate studies require a lot of work, so choose topics that you are passionate about. Being an international student brings many challenges and having a community really helps." Irem also recommends yoga and daily exercise to her fellow graduate students for resilience and stress management.
Publications:
An analysis of Turkey's solar PV auction scheme: What can Turkey learn from Brazil and South Africa?, Selahattin Murat Sirin, Irem Sevindik, Energy Policy, Volume 148, Part A, 2021, 111933, ISSN 0301-4215, https://doi.org/10.1016/j.enpol.2020.111933.
How is wind energy changing the price dynamics in Turkish power market?, Irem Sevindik, Selahattin Murat Sirin, Ozgesezgin Alp, Proceedings of Research for a 51st International Conference, Los Angeles, USA, 18th-19th April, 2019.
January featured student: Christina McSherry
Doctoral candidate in Anthropology
---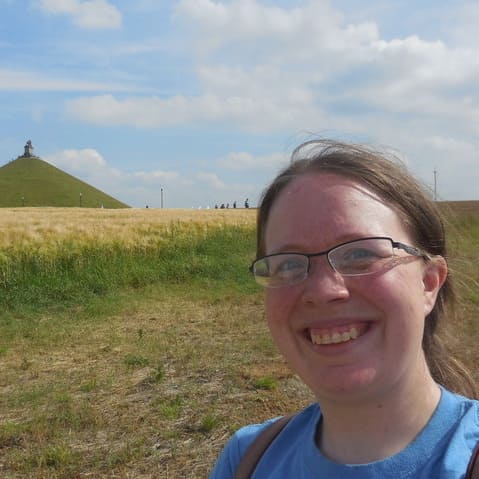 Christina McSherry is a PhD candidate in the Anthropology department specializing in historical archaeology and the archaeology of conflict. The focus of her dissertation is a collaborative project titled, Our Ancestors Walk of Sorrow; Removal Trail Project. For this project, she and Dr. Sarah Cowie and fellow PhD candidate Diane Teeman are working with over a dozen communities of descendants of Native Americans who were marched as prisoners along the Newe historic trail from Fort Harney to Fort Simcoe in 1879 after the Bannock War.
She is proud to be involved in a community driven project. While the project has many goals, her part of the project is to expand how society looks at conflict archaeology and take it beyond investigating just physical violence. This is not the only project that Christina is working on; she has also taken on a linguistics project studying monuments at the Gettysburg battlefield and a project investigating WWII weapons. This experimental archaeology project looks at shell casings that remain after firing weapons and the pattern in which they form. Studying this would give one an idea as to what the individual was doing when they fired the weapon. Christina has always been immersed in history, further fueling her interest in archaeology.
"One doesn't only learn history through a textbook," she says. After obtaining her PhD, she hopes to continue pursue academia as she loves teaching and fieldwork. Her advice for graduate students is to look closer, as sometimes the best projects are the ones right in front of you. She is currently working towards publishing her work on the monuments of the Gettysburg Battlefield.
January featured student: Salvador Gutierrez-Portocarrero
Doctoral student in Chemistry
---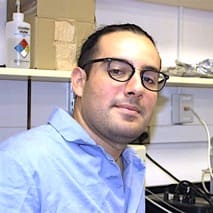 Salvador Gutierrez-Portocarrero is pursuing PhD in Chemistry at the University of Nevada, Reno. He earned his Bachelor and Master of Science at the National Autonomous University of Mexico (UNAM). He first gained interest in chemistry in high school and credits having had passionate teachers. He also gives credit to his former calculus teacher for his interest in science.
While Salvador was completing his master's, he kept pushing forward in science to explore more about materials and electrochemical systems for energy applications. The prior to enhance renewable energy devices and the latter to understand global warming problems that faces society today.
Salvador currently works in the Alpuche Research Lab and his advisor is Dr. Mario Alpuche. The Alpuche group's interest on semiconductors comes for the need to improve processes related to solar energy harvesting. Salvador's research focus is on the single-entity electrochemistry, but specifically the electrochemistry that occurs on the surface of independent semiconductor nanoparticles. His dissertation research is based on trying to capture a single particle to learn about chemical processes of nano-entities.
He enjoys sharing knowledge through teaching both in the classroom and the lab. Salvador has won several awards and honors during his time at the University of Nevada, Reno. He received the Graduate Dean's Merit Scholarship in the Fall 2019. In addition, Salvador received the Hyung Kyu Shin Scholarship in 2017 and the John H Nelson Scholarship in 2020 at the University of Nevada, Reno.
During his career at UNR, he made a breakthrough for the single entity research community, characterizing TiO2 nanoparticles by electrochemistry under a laser radiation. Salvador considers himself a hard worker. He states even when things are going well, he just keeps pushing. He feels that support at the University of Nevada, Reno is tremendous as everyone is willing to help and there are numerous resources available. He recalled a time when he and the team were not getting the results they wanted and afterwards his advisor suggested procuring and trying a laser. His advisor's willingness to invest resources in his research – and trust his research methods – meant a great deal to him. It is his hope that the research continues after he leaves the university. Salvador's advice for graduate students is, "at the end of the whole path of being a graduate student, it is worth it, even when you are facing hard times. When you push yourself to the limits, knowledge pays off and makes you a better person." After graduating, he would like to stay in academia or industry to keep working on research.