Grad Howler
Are you (or do you know of) a University of Nevada, Reno graduate student that has recently won an award or honor? Published a major paper? Given a presentation at a conference? We would love to share these exciting accomplishments on our Grad Howler page for Graduate Student recognition. Submit your information, and we will add it to our page!
March featured student: Drew Levy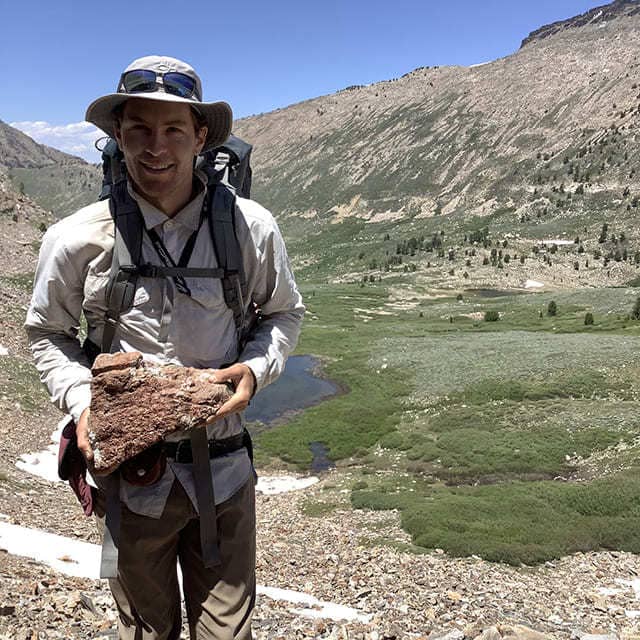 Drew Levy is a fourth year PhD student in the Department of Geological Sciences and Engineering who is investigating the geological evolution of Nevada over the last 200 million years. This work sets the foundation for geologists studying faults and earthquake hazards in Nevada, as well as geothermal and mineral resources across the state. Drew's interest in Geology began during his undergraduate career at the University of California, Los Angeles (UCLA). During his first geology class at UCLA, he realized geology offered the opportunity to study science in the outdoors and apply chemistry and physics to understand the environment we live in. The majority of his research is centered in the Ruby Mountains of eastern Nevada where he uses geochronology to determine the formative timelines of igneous and metamorphic rock.
Drew has an impressive research record boasting more than $20,000 in grants from the Geological Society of America, with a little help from the Graduate Student Association at the Unviersity of Nevada, Reno. He was recently published in the Geological Society of America Bulletin and has co-authored papers in six additional publications.
As a doctoral student, Drew strives to connect those with overlapping research interests within the local graduate community. Geosciences are broad ranging – and sometimes students and researchers unintentionally work in silos. That's one of the reasons Drew helped to form the University's first Student Association of Geosciences and Engineering (SAGE). SAGE organizes a bagel and coffee hour to encourage students in geosciences to come together. SAGE is something he is very passionate about and hopes to continue after the COVID-19 Pandemic. "There are so many benefits of having an organization like SAGE present on campus, and one is making sure students are supported and feel valued as members of our community," he says.
After graduation, Drew would like to continue working in academia where he can share the joys of fieldwork with students and continue to conduct research. His advice to fellow graduate students is to "embrace more than just research – there are many valuable experiences that can be gained by becoming involved in the graduate community. No matter your career path, your people skills will always be very important." He says it is also crucial to take time for yourself and not to miss out on the nature-based experiences that the Reno-Tahoe area has to offer.
February featured student: Irem Sevindik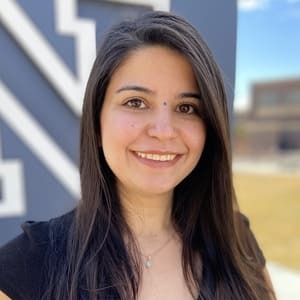 Irem Sevindik is a second year PhD student in the Economics Department at the University of Nevada, Reno. She received her B.S. in Industrial Engineering from Bilkent University, and MBA from Ankara University, both in Ankara, Turkey. When looking for a graduate program in her specific area of interest, she discovered that the Nevada had exactly what she was looking for. A campus tour featuring enthusiastic faculty, a gorgeous campus, and a unique natural environment sealed the deal for her.
Irem is specializing in Financial Economics and Renewable Energy Economics and is serving as a teaching assistant in the Economics Department. She became interested in economics after realizing she wasn't attracted to manufacturing, but wanted work in the finance field and utilize her mathematical and optimization skills. With a PhD, she feels her career options will be endless.
While she enjoys teaching and research, she is also interested in corporate roles that focus on renewable energy. Irem published a paper titled In Analysis of Turkey's Solar PV Auction Scheme: What can Turkey learn from Brazil and South Africa in January. This paper was featured in the Energy Policy Journal, a top-25 journal. In the paper, they examined the auction schemes for renewable energy in Turkey; measured the profitability and vulnerability of solar PV technologies to macroeconomic shocks and financial risks; and made policy recommendations for Turkey by comparing the auction scheme with those of Brazil and South Africa. The project was completed solely by Irem and another student, without the assistance of faculty.
Irem also presented a paper at the IRES International Conference on Economics and Social Science in Los Angeles California. Her presentation – How is wind energy changing the price dynamic in Turkish Power Market? – won the Excellent Paper Award, a highly coveted honor within the field. Irem was also awarded the distinguished Neslihan Aybek Memorial Scholarship, and more recently, the Outstanding Graduate Student Scholarship.
Her advice for fellow graduate students: "Graduate studies require a lot of work, so choose topics that you are passionate about. Being an international student brings many challenges and having a community really helps." Irem also recommends yoga and daily exercise to her fellow graduate students for resilience and stress management.
Publications:
An analysis of Turkey's solar PV auction scheme: What can Turkey learn from Brazil and South Africa?, Selahattin Murat Sirin, Irem Sevindik, Energy Policy, Volume 148, Part A, 2021, 111933, ISSN 0301-4215, https://doi.org/10.1016/j.enpol.2020.111933.
How is wind energy changing the price dynamics in Turkish power market?, Irem Sevindik, Selahattin Murat Sirin, Ozgesezgin Alp, Proceedings of Research for a 51st International Conference, Los Angeles, USA, 18th-19th April, 2019.
January featured student: Christina McSherry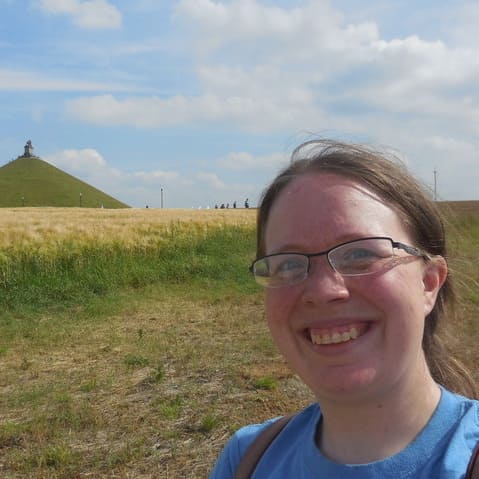 Christina McSherry is a PhD candidate in the Anthropology department specializing in historical archaeology and the archaeology of conflict. The focus of her dissertation is a collaborative project titled, Our Ancestors Walk of Sorrow; Removal Trail Project. For this project, she and Dr. Sarah Cowie and fellow PhD candidate Diane Teeman are working with over a dozen communities of descendants of Native Americans who were marched as prisoners along the Newe historic trail from Fort Harney to Fort Simcoe in 1879 after the Bannock War.
She is proud to be involved in a community driven project. While the project has many goals, her part of the project is to expand how society looks at conflict archaeology and take it beyond investigating just physical violence. This is not the only project that Christina is working on; she has also taken on a linguistics project studying monuments at the Gettysburg battlefield and a project investigating WWII weapons. This experimental archaeology project looks at shell casings that remain after firing weapons and the pattern in which they form. Studying this would give one an idea as to what the individual was doing when they fired the weapon. Christina has always been immersed in history, further fueling her interest in archaeology.
"One doesn't only learn history through a textbook," she says. After obtaining her PhD, she hopes to continue pursue academia as she loves teaching and fieldwork. Her advice for graduate students is to look closer, as sometimes the best projects are the ones right in front of you. She is currently working towards publishing her work on the monuments of the Gettysburg Battlefield.
January featured student: Salvador Gutierrez-Portocarrero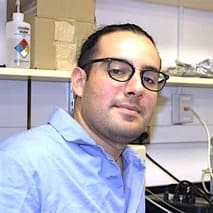 Salvador Gutierrez-Portocarrero is pursuing PhD in chemistry at the University of Nevada, Reno. He earned his Bachelor and Master of Science at the National Autonomous University of Mexico (UNAM). He first gained interest in chemistry in high school and credits having had passionate teachers. He also gives credit to his former calculus teacher for his interest in science.
While Salvador was completing his master's, he kept pushing forward in science to explore more about materials and electrochemical systems for energy applications. The prior to enhance renewable energy devices and the latter to understand global warming problems that faces society today.
Salvador currently works in the Alpuche Research Lab and his advisor is Dr. Mario Alpuche. The Alpuche group's interest on semiconductors comes for the need to improve processes related to solar energy harvesting. Salvador's research focus is on the single-entity electrochemistry, but specifically the electrochemistry that occurs on the surface of independent semiconductor nanoparticles. His dissertation research is based on trying to capture a single particle to learn about chemical processes of nano-entities.
He enjoys sharing knowledge through teaching both in the classroom and the lab. Salvador has won several awards and honors during his time at the University of Nevada, Reno. He received the Graduate Dean's Merit Scholarship in the Fall 2019. In addition, Salvador received the Hyung Kyu Shin Scholarship in 2017 and the John H Nelson Scholarship in 2020 at the University of Nevada, Reno.
During his career at UNR, he made a breakthrough for the single entity research community, characterizing TiO2 nanoparticles by electrochemistry under a laser radiation. Salvador considers himself a hard worker. He states even when things are going well, he just keeps pushing. He feels that support at the University of Nevada, Reno is tremendous as everyone is willing to help and there are numerous resources available. He recalled a time when he and the team were not getting the results they wanted and afterwards his advisor suggested procuring and trying a laser. His advisor's willingness to invest resources in his research – and trust his research methods – meant a great deal to him. It is his hope that the research continues after he leaves the university. Salvador's advice for graduate students is, "at the end of the whole path of being a graduate student, it is worth it, even when you are facing hard times. When you push yourself to the limits, knowledge pays off and makes you a better person." After graduating, he would like to stay in academia or industry to keep working on research.
October featured student: Blaize Abuntori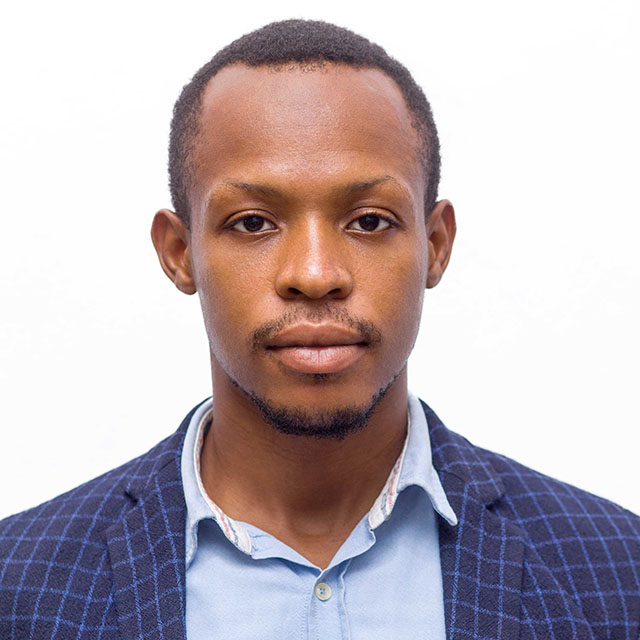 Blaize Abuntori a graduate student in the M.S. Data Analysis and Statistics Program here at the University of Nevada, Reno is making leaps and strides in the Reno Community. Blaize originally from Ghana, sought to help combat hunger in the Downtown Reno Homeless Community. To help combat this issue, Blaize started the Reno Burrito Project using his own funding. When Blaize started the project, he would purchase 4 pre-made burritos a week and hand them out to those in need in Downtown Reno. Now, the Reno Burrito Project currently provides 200 burritos as week. Every weekend with the help of volunteers, they make burritos, walk around downtown Reno, and hand them out at no cost. Blaize says "Its about more than just giving someone a burrito it is opening a conversation and understanding what is happening in their life". Through Blaize's initiative the Reno Burrito Project has collaborated with the Reno United Federation of the Universe or (RUFU). With this collaboration, they were able to collect donations to provide hygiene kits to the local homeless community. He has received a great deal of support for this project. The Ecology Department on campus has given a great deal of funding to the project through the go fund me page. The page has currently raised $10,020.00 of its $24,000.00 goal. Another project that Blaize would like to set up in the Reno community is a shelter in which there is no time requirement; individuals in need would always have a place to stay. Furthermore, he feels that this type of shelter would offer individuals a chance to work on their goals and not deal with everyday stressors such as where to get a shower.
Blaize's credits his mentor entrepreneur David Meltzer for inspiring him to start the project and make a difference in the community. After graduation, Blaize would like to work in the Data Sciences field, he feels there is a difference from working on the job and applying the knowledge that he has learned here at the University of Nevada, Reno. Blaize's advice for graduate students is if you want to start something, simply start small and do it because you want to. He further encourages graduate students to not doubt themselves in regards to their dreams and or initiatives. Blaize will be graduating in May and is putting steps into place so that the project continues after his graduation.
If you would like to volunteer, or learn more about the Reno Burrito Project please visit their Instagram @renoburritoproject
August featured student: Foram Gathia
Foram Gathia began her graduate education at the University of Nevada, Reno in 2018 pursuing her Master of Arts in Higher Education Administration, Educational Leadership. Before coming to Reno, Foram received her M.A. in English Literature from Mumbai University in Mumbai India. She is currently working on an independent study with Diane Barone, Ph.D. studying English language acquisition, they are working on the proposals for that study. To date, Foram has had five publications accepted. Furthermore, she presented at National Conference on "Languages and Literatures of India" in 2018. She was also a Dean's Fellowship Award Recipient in the fall of 2018 a highly coveted award here at the University campus. Her current advice to graduate students is "to never give up, all of your hard work is worth it in the end." She firmly believes in hard work and not taking shortcuts, as hard work pays off in the end. Upon completing her master's degree she hopes to start a Ph.D. program in the fall 2020 semester.
Recent publications
Foram Gathia, English Language Teaching in the Indian Context, Research Chronicler, Volume VI, Issue IX, September, 2018.
July featured student: Francesco Zuniga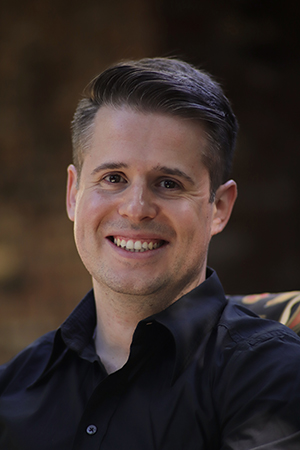 Francesco is a Ph.D. student in the Statistics and Data Science program here at the University of Nevada, Reno. Prior to enrolling in his Ph.D. program, he studied Civil Engineering at the University of Tor Vergata in Rome Italy where he received his Bachelors. Francesco also holds a M.S. in Civil Engineering from the University of Nevada, Reno. What drew Francesco to the University was being able to work two summers in the UNR Earthquake Lab. Currently, he is working with his advisor Prof. Anna Panorska in the area of extreme value theory, specifically peaks over threshold.
 Francesco states, "The innovative models they developed was at first applied to Engineering problems related to energy peaks, direct impact on the state and national estimates of energy reserves and for financial applications, modeling the financial markets' volatility. Later on, there was the chance to work on Big Data related to the field of climatic and atmospheric science. The process of fitting their model to the new dataset was an interesting challenge, the goal was to better understand and to give a scientific interpretation to these important climate changes: like heat waves, droughts and many more."
Francesco has been the recipient of many awards and honors during his career at the University of Nevada, Reno. In 2017, he won the Graduate Deans Merit Scholarship -- a highly coveted honor. In addition, in 2018 he was selected for the GSA Outstanding Teaching Assistant Award, and in 2020 he received the GSA Outstanding International Graduate Student Award. In his department, he won the Ben & Beatrice Edwards Math Scholarship as well as outstanding teaching assistant for the Mathematics and Statistics Department. Furthermore, he won a very competitive scholarship from Reading University in London, UK for a summer research program in mathematics and statistics applied to climate change. He truly believes his research on Statistics of Climate Change will have a strong impact not only in his field. Using the scientific methods they are developing new models to observe and forecast these Climate Changes phenomena. Francesco explains, "Because the danger to irreparably ruin the ecosystem is real, and it is our duty to preserve and defend this amazing planet." Francesco emphasizes that the key to building a better society is through research.
Besides receiving many awards and honors, Francesco also cofounded the student chapter of SIAM at the University of Nevada, Reno. Francesco explains, "SIAM, stands for Society for Industrial and Applied Mathematics. It is an organization that has chapters all over the world. The goal is to promote research that will lead to effective new mathematical and computational methods and techniques for science, engineering, industry, and society." After he completes his Ph.D. program, he hopes to work in industry while still pursuing on research. Francesco's advice to other students: If you are consistent and willing to work hard with perseverance, you can achieve anything you want."