Turning account registration, WebCampus connection, and subscription
Step 1: Log into WebCampus using your NetID and password.
---
Step 2: Access the Turning Account registration page.
On the "Global Navigation Menu," click on the "Account" icon/link and click on "Turning Account Registration." You will be taken to the Turning account registration/login page.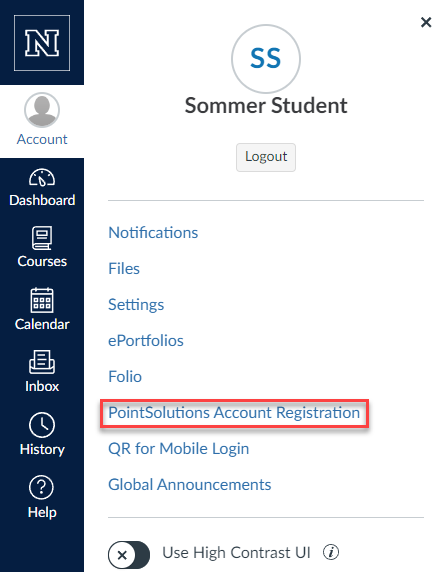 Or, if your instructor has enabled the Turning Account Registration link in your course, you can find it on the course menu.

---
Step 3: Create and link your Turning account.
On the Turning account login page, your email address will automatically populate the required field.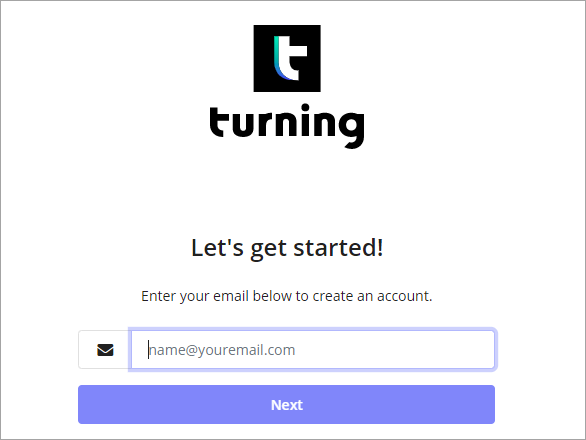 If you do not have a Turning account. To create a Turning account, enter your UNR email (highly recommended) and click Next. A verification email will be sent to the email address you entered (check the Spam folder if you don't see the verification email in the Inbox). Click on the verification link in the email to complete the registration process. Be sure to choose "Participant" as your role.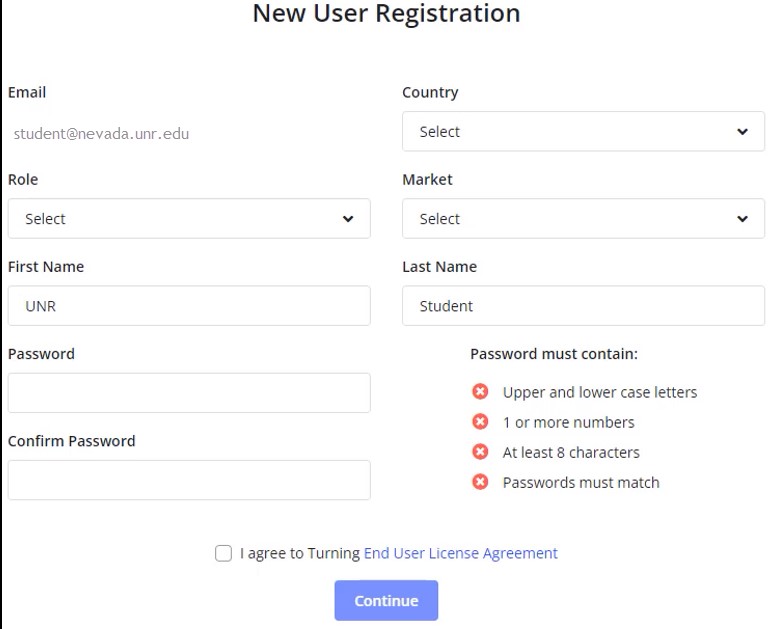 If you have an existing Turning account. Enter the email address and click Sign In to sign into your account. This will link your Turning Account with WebCampus and sync your classroom participation grades. Once your accounts are linked, skip to Step 5: Verify your subscription.
*NOTE: Your University-issued student email address (XXX@nevada.unr.edu) is not required. However, using your student email address allows you to purchase a one-year subscription at a discounted price ($15 per year). You may change your email address after creating and logging into your Turning account.
---
Step 4: Purchase a subscription.
After you finish the registration process, you will begin the process for purchasing a subscription. Click Let's get started to continue.

You will see the subscription options on the next screen. If you have purchased a scratch card from the Wolf Shop, enter the subscription code. Otherwise select a new subscription option. Note that if you have used your student email address, you will only see the $15 purchase option. Make your selection and click Next.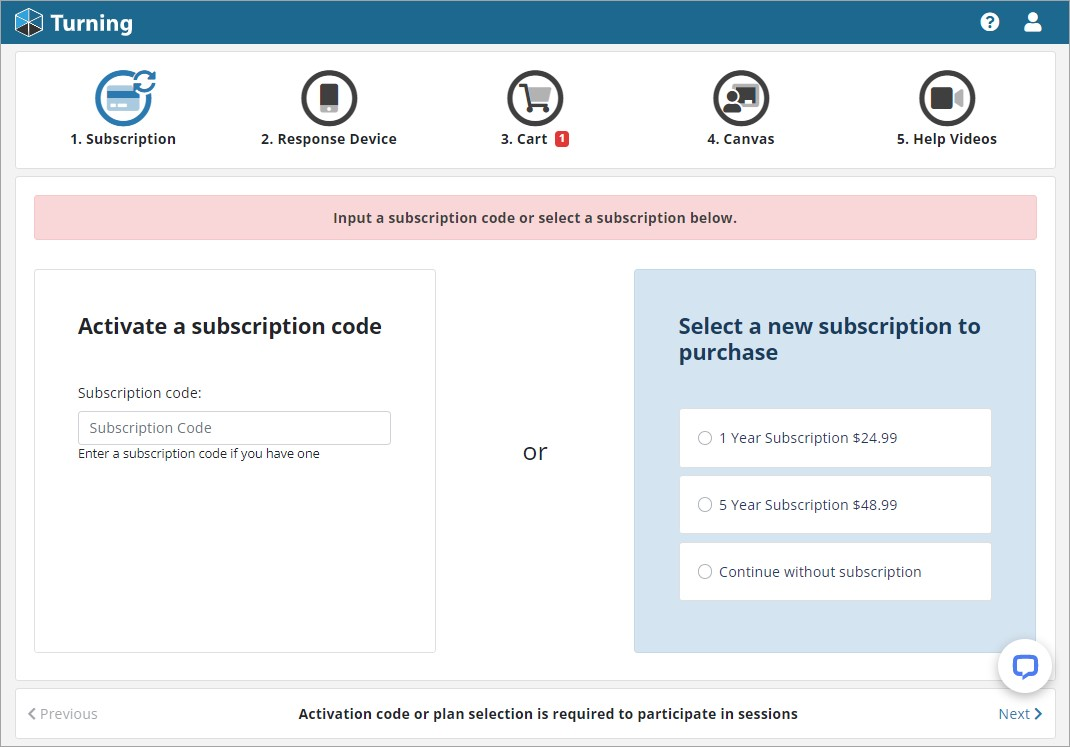 On the following screen, choose "I am going to only use my mobile device." Click Next and you will be taken to the Cart, and then Next to continue the process and purchase the subscription.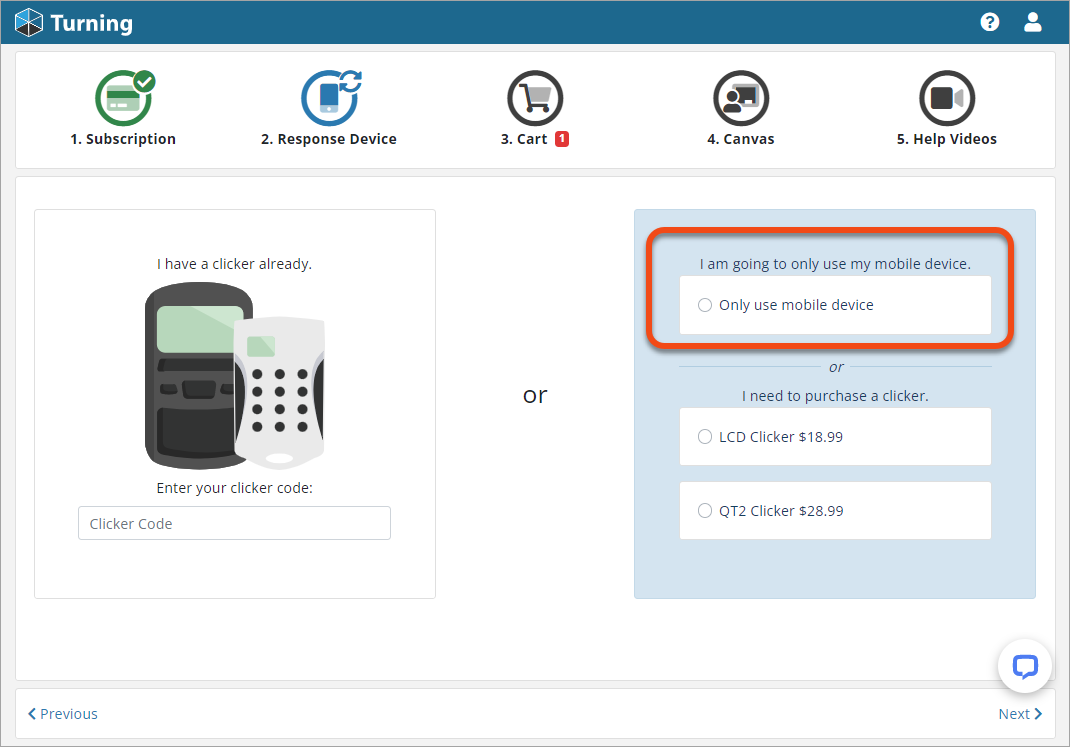 ---
Step 5: Verify your subscription.
To check the status of the subscription, log into your Turning account and access your profile by clicking the User icon on the menu at the top of the screen.

On your Turning profile page, you will see your Subscriptions, Response Devices and Learning Management Systems.
Subscriptions: You can see your subscription status with the expiration dates. If you do not have any subscriptions, or your subscription is expired, click on the Add or Purchase a subscription link. On the pop-up screen, click the Go Purchase a Subscription link to continue the purchase.
Response Devices: You will see your Turning account ID. You use your smart devices or computer as a virtual clicker to participate in polling activities.
Learning Management Systems: You should see a green check mark for Canvas, indicating your WebCampus account is connected to your Turning account.
You are now ready to participate in classroom polling activities.