Student guide to Proctorio
Proctorio is an online proctoring tool integrated in WebCampus Quizzes. Proctorio makes it easier to take proctored exams/quizzes. You can take an exam on any computer with internet connection at your convenience within the exam availability window. During the exam, Proctorio records your screen activities, your physical movements and the testing environment. The recording will be reviewed by your instructor.
Using Proctorio
Proctorio requires the use of the Google Chrome browser and the Proctorio extension. Download the Chrome browser and the Proctorio extension if needed.
Additionally, students need:
A computer (not a tablet or other mobile device) connected to a power source for the duration of the test.
A reliable internet connection (wired internet connection is highly recommended).
A webcam and a microphone (If students do not have access to a webcam and microphone, please see the webcam alternatives page for more information).
A University-issued student ID or a government-issued photo ID for identity check. They may also be asked to show the room where they plan to take their exam.
A private, quiet space in which to take the exam with no other people entering or passing through. Additionally, no other devices should be in the testing space (e.g., TV, stereo, phone).
Students may also be asked to show or scan the room where they plan to take their exam. In order to do so, they will need to rotate their laptop or webcam around the room in order to show that the space is clear of unauthorized materials or other people.
Proctorio is easy to use. It will perform computer readiness test, identity check, and test environment (your room) check, according to the settings chosen by your instructor. If you are unsure of the settings chosen by your instructor, including whether the exam is open book/note or closed book/note, what will be recorded during the exam (your screen, webcam, audio, etc.), or whether you will need to present ID or show your testing space, please contact your instructor directly.
The system will guide you through the computer readiness procedure when you are ready to take the proctored exam. Below are the procedures of using Proctorio:
Step 1: First, it is recommended that you restart your computer, which will free up available memory (RAM).
---
Step 2: In the Chrome browser, go to the course, and click on the exam. (You will be prompted to download and install the Proctorio extension if you don't have it installed yet).
---
Step 3: Click on the Take the Quiz button to start. You will be taken to a page with the information on what is restricted and what information is collected during the exam. It also checks to make sure you don't have multiple displays or browser tabs/windows open.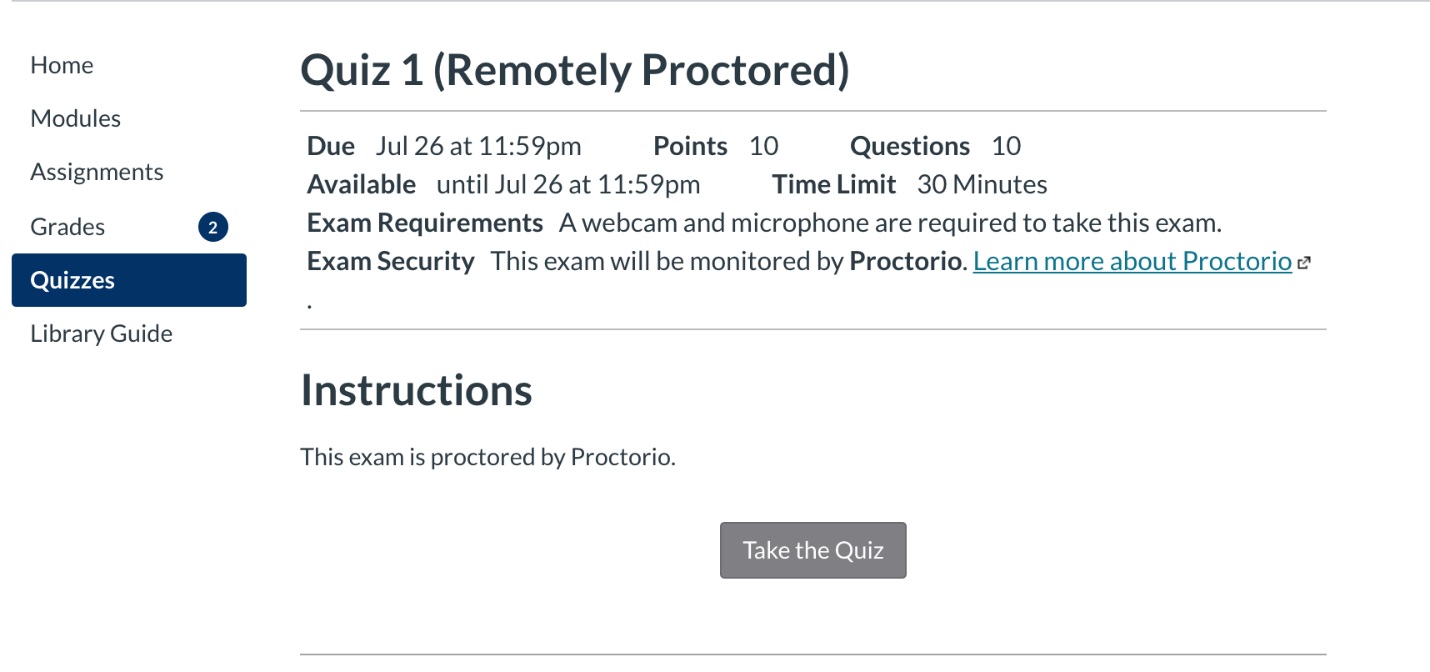 ---
Step 4: Close all other open tabs/windows if applicable. Then you can proceed to click on the Start exam pre-checks button/link at the lower right-hand corner of the page. (Note: The Start exam pre-checks button/link is not available if you have multiple tabs/windows/displays open).

Step 5: Proctorio will begin to perform System Diagnostics Test. It will check the readiness of the webcam, microphone, internet connection and your computer desktop. Both WebCampus and Google will ask for permission to access your webcam and microphone and you will need to allow the access. You will also need to share your entire screen with Proctorio.
Note: macOS Catalina (10.15) users may experience an error when attempting to share their screen. The solution is take the browser out of full-screen mode before sharing. To do this, move your mouse cursor to the upper left-hand corner of the browser window, exposing the green browser window button and click it.
---
Step 6: When all this is completed, you will see you have passed the initial system checks (the icons for the web-cam, microphone, internet connection and desktop are all green with check mark).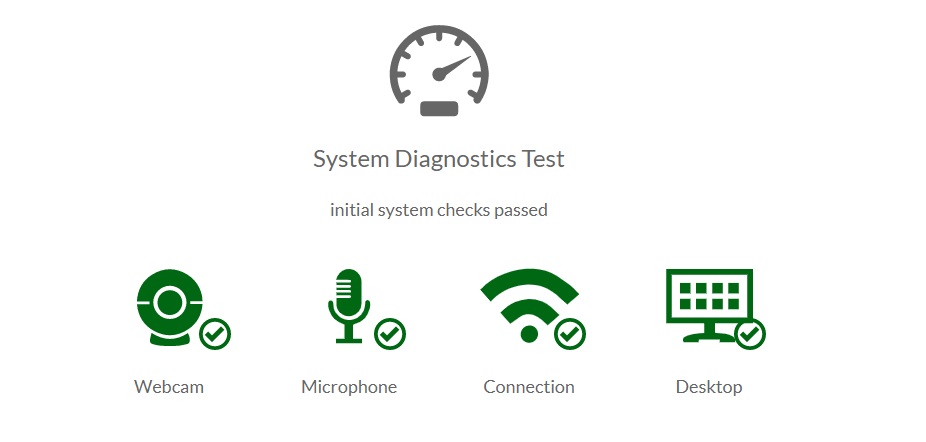 ---
Step 7: You will then see yourself live on the screen. Proctorio will test your microphone level if audio recording is required by the instructor. After that, you will be required to show your photo ID to the webcam for an identity check. A webcam image test will be performed. Follow all the on-screen prompts to complete all the tests.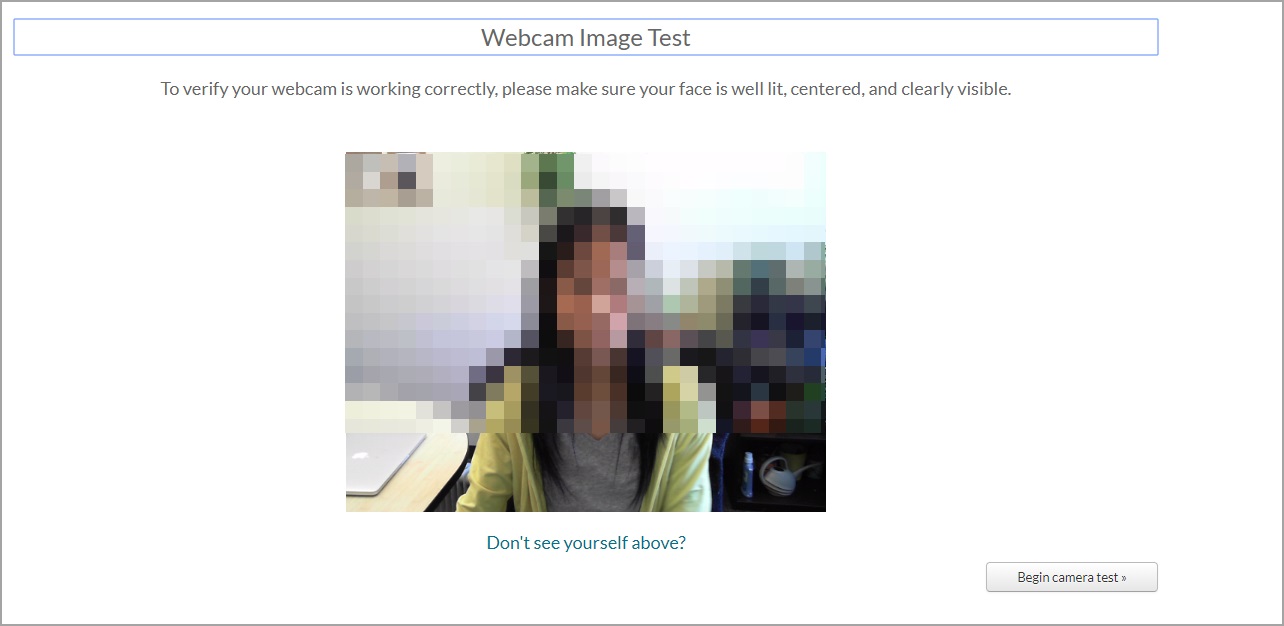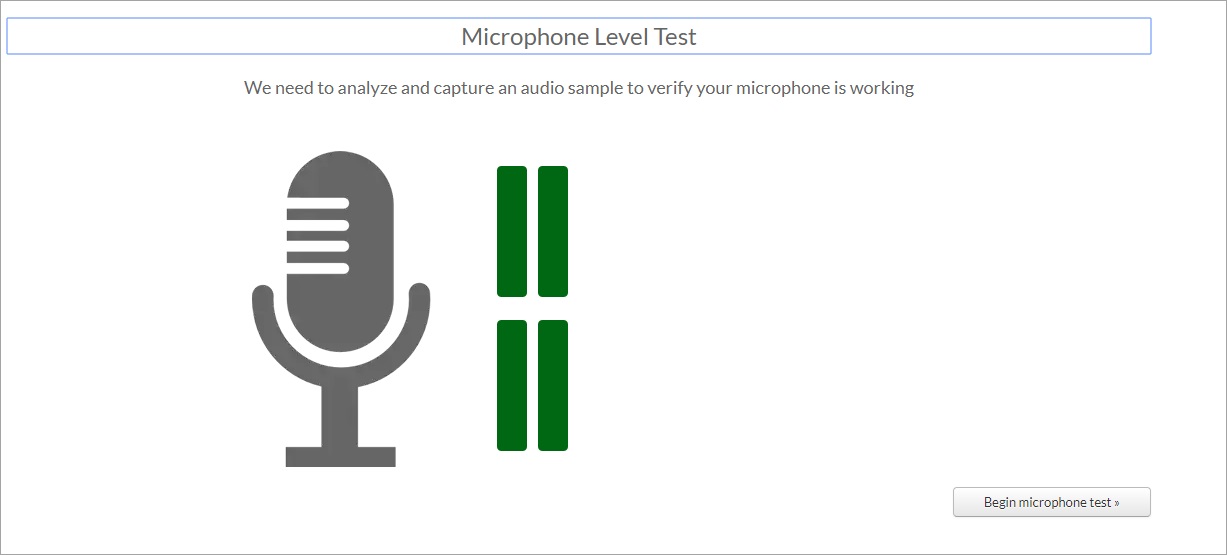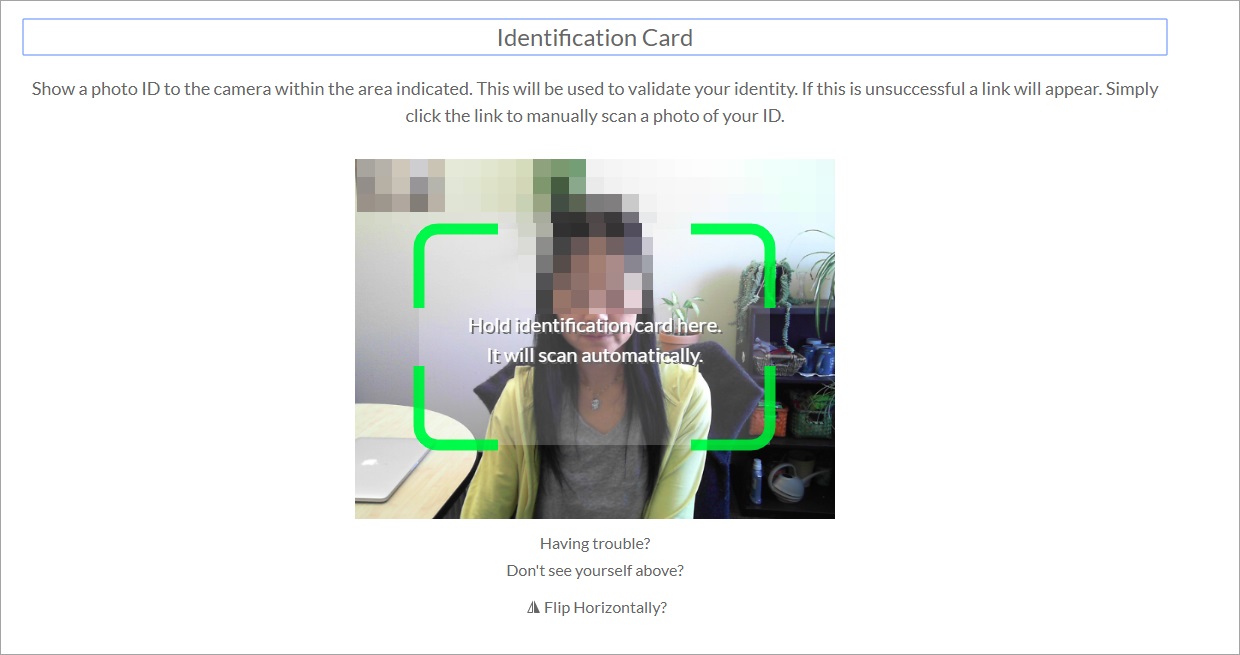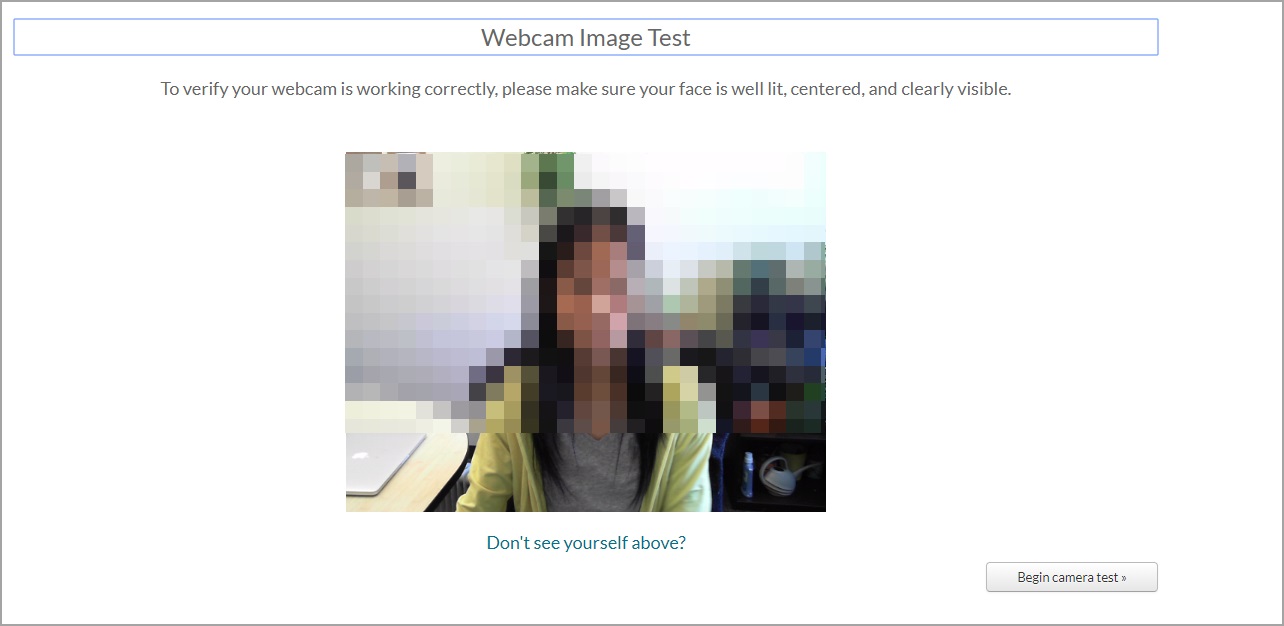 ---
Step 8: When all this is completed, you will be required to read and accept the Exam Agreement. Once you click on "I accept, begin exam now" button, the exam will start and Proctorio will begin recording as well.
Note: If your instructor has set a time limit for your exam, the timer will not begin until after you have completed Proctorio's pre-check process and start the exam.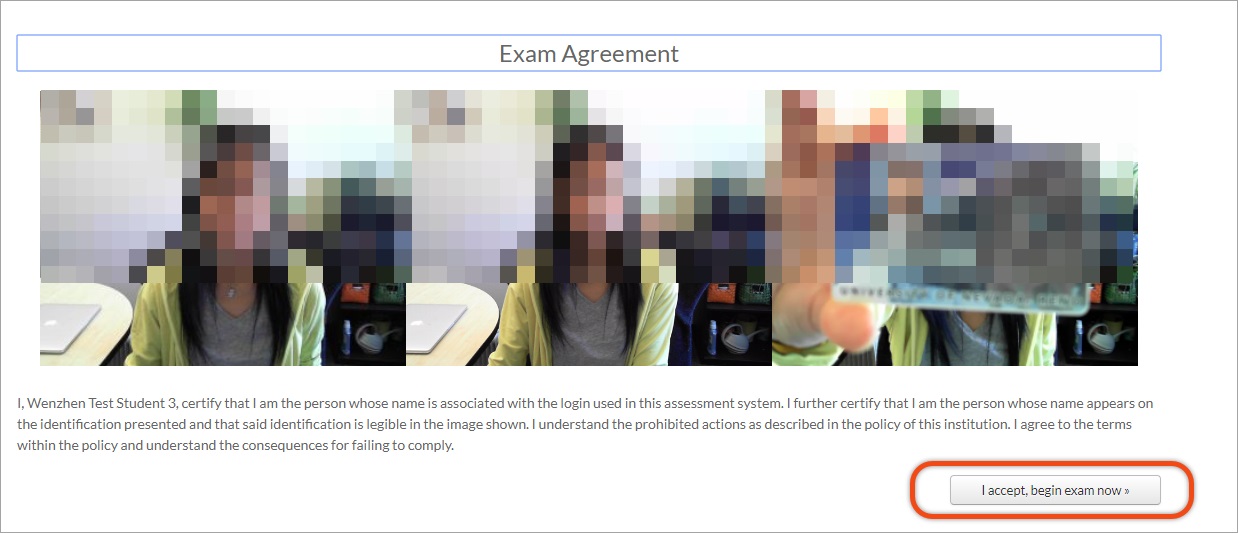 ---
Step 9: During the exam, all screen activities and your physical movement will be recorded. Note that there is a floating bar at the bottom of the screen saying "Proctorio is sharing your screen". DO NOT click on Stop sharing button. This will kick you out of the exam.

---
Step 10: When you finish the exam, just click the Submit button/link. The recording will stop.
If you have any questions or concerns about Proctorio, please visit Support at Proctorio.
You should contact Proctorio via Live Chat as soon as you encounter any issues. You can find this:
Option 1: By clicking on the Proctorio Extension icon (the small shield, #1 in the screenshot below) in the Chrome browser and selecting "Live Chat" (available only when you are on the quiz page in Chrome, #2 in the screenshot below)

Option 3: Or by email at support@proctorio.com, or phone at (480) 428-9248.
Please note that Proctorio Live Chat can help with technical issues related to using Proctorio in your exam. If you have questions about the exam itself, including about time limits, whether open book/notes are allowed etc., please contact your instructor.
The following suggestions can help you to avoid problems:
Do not attempt to take your exam on a tablet or mobile device. A computer plugged into a power source should be used.
Hard-wired into the internet, if possible. Wifi or internet hotspots are not recommended.
Before starting the test,

restart your computer
close all other apps you may have open
close all other tabs open on your browser
clear your browsing history
Common issues
I'm being asked for a password to start my exam
With Proctorio, you should never be prompted for a password or access code. After your instructor enables Proctorio on an exam, there is no password or access code for you to type in. Typically, if you are being prompted to type in a password or access code, it means that Proctorio is being blocked on your computer. To fix this, try the following:
Re-Install the extension - Please uninstall the Proctorio extension by clicking on the shield icon in the top right corner of your browser and re-install the extension from the Proctorio website.
Google Chrome cersion - Please make sure that your Google Chrome is up to date. You can check this by clicking on the three dots in the top right-hand corner of your screen. Click Help, then About Google Chrome, and the first thing you should see is your Google Chrome version. If it's not up to date, please select the option to update it.
Clear cache and cookies

Head to the three dots in the right hand corner
More Tools
Clear Browsing Data
Time Range should be set on All-time
Check Cookies and Cached images
Click Clear Data.

Site access - Make sure that the Proctorio extension is allowed on all sites. To check this, please go to the three dots in the top right-hand corner of your browser -> More Tools -> Extensions. Here you'll see the list of all extensions installed. Locate the Proctorio extension, click on Details and in the "Site access" section choose "On all sites". After completing these steps, refresh the exam page to check if the issue is fixed.
Disable all extensions except for Proctorio - In the extensions tab, check your extensions and disable all except Proctorio (one could potentially block Proctorio). Head to the three dots in the top right corner of your Chrome browser -> More Tools -> Extensions.
Restart your computer - Computers need to be restarted if they haven't been rebooted in awhile. If the password prompt is still displaying, fully restart your computer, which will close any open applications. Once restarted, head back to the exam within your LMS.
Proxy settings - Proctorio doesn't encourage the use of virtual proxy networks. It will be necessary to disable them if you're experiencing issues with your connection. For help disabling local proxy software, please see the following guides:

Disable Local Proxy Server (Windows).
Disable Local Proxy Server (Mac OS X).
I got a message saying "you do not have sufficient RAM for the test"
You may still begin the test. It is best to open up a chat from the Proctorio shield icon on the top right-hand corner of your Chrome Browser, as Proctorio's Support Desk has a lot of tips and tricks to ensure this gets resolved without causing any issues.
If you have any questions or concerns about Proctorio, please visit the support at Proctorio website.
Screen share error: My computer won't let me share the screen
This happens when you use a Mac and didn't give Chrome permission to screen recording. To resolve this, go to System Preferences, then Security & Privacy. Under Privacy, make sure Screen Recording is enabled for Chrome. Refresh the browser as needed. (Note: you may need to refresh restart the browser.)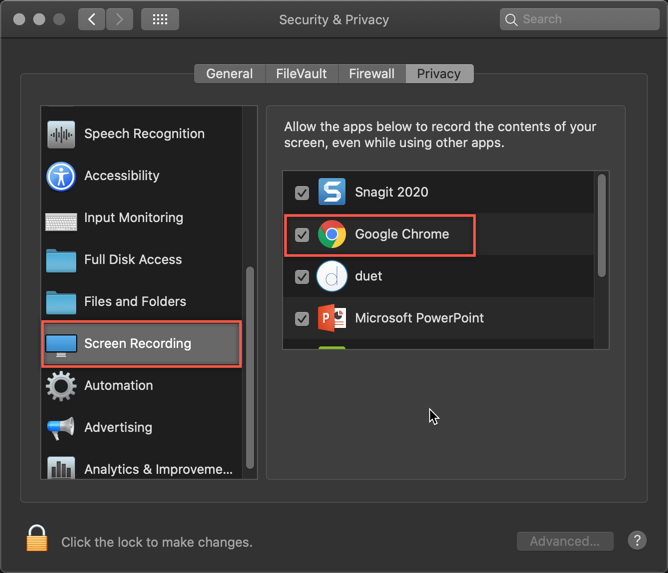 It is recommended that students disable the Proctorio extension after completing their proctored exam. Uninstall the Proctorio extension by following these steps:
Step 1: Open Chrome
---
Step 2: Navigate to the upper right corner and find the small Proctorio extension grey shield (1). Click on the grey shield.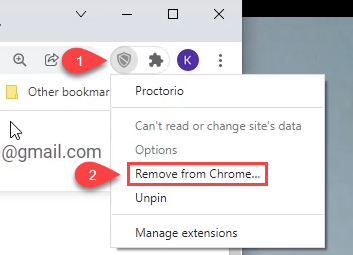 ---
Step 3: Click Remove from Chrome (2).
---
Step 4: One the Remove "Proctorio" window that opens, click Remove.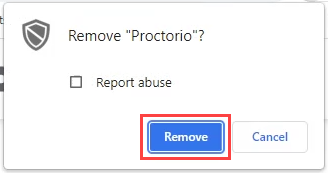 It is best practice to close out of and restart Chrome before moving to your next task.