Using Proctorio's lock down settings
Proctorio' s features can be scaled back, so it works only as a secure browser. Proctorio's secure browser options restrict some browser functionality during the exam. Functionality that can be restricted includes:
Block downloads
Disable printing
No new browser tabs once test has begun
Close any other open browser tabs
Disable clipboard
Disable right-click
As a reminder, Proctorio is not required for Spring 2020 courses. In general, it should only be used for high-stakes exams such as mid-terms and finals.
Setting up Proctorio's lock down options
In order to use Proctorio as a secure browser, follow the instructions below when setting up your quiz (exam) in WebCampus.
Step 1. Go to the Quizzes in your WebCampus Course.
Step 2. Click on title of the quiz where you want to use Proctorio.
Step 3. On the Quiz information page that loads, click on the Edit button.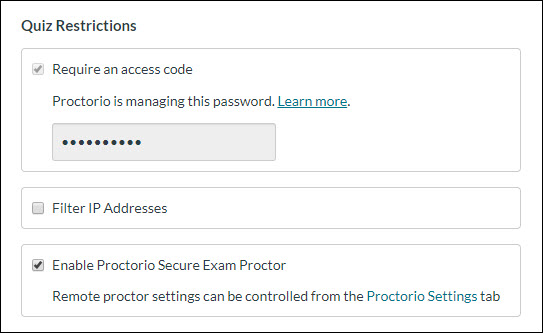 Step 4. On the quiz settings page, scroll down and click the checkbox next to "Enable Proctorio Secure Exam Proctor".
Step 5. Scroll up and click on the Proctorio Settings tab.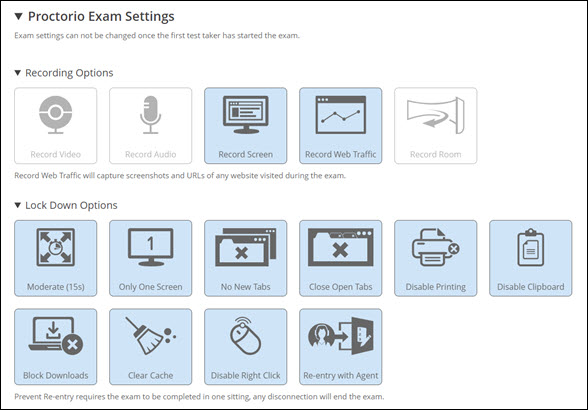 Step 6. On the Proctorio settings page, enable the following options:
Under Recording Options:

Record Screen
Record Web Traffic

Under Lock Down Options:

Moderate (Force Full Screen)
Only one Screen
In Quiz Links Only
Close Open Tabs
Disable Printing
Disable Clipboard
Block Downloads
Clear Cache
Disable Right Click
Re-entry with Agent

Under Verification Options:
In-Quiz Tools

Use these as appropriate for your content. If not needed, leave un-selected.
Step 7. Click the Save button at the bottom of the page to save your quiz settings.
Note: These are recommended settings, you can choose to turn on or off any one of these settings as appopriate.
Additional resources
More information on the specific function of each Proctorio setting can be found on the following pages: