Top Hat for students
Top Hat is an interactive learning tool for classroom engagement and assessment. To use Top Hat, you will need to register for an account (if you do not have one yet), download the Top Hat app and purchase a subscription. The subscription fee is $26/term or $43/year.
Students use Top Hat app to participate in classroom polling activities. The app can be downloaded at the Apple Store/GooglePlay. Students can also use a web browser on the laptop to respond to polling questions. A subscription is required.
1. Go to the course Modules in WebCampus and click on the Top Hat link to be taken to the Top Hat registration page.

2. If students don't have an account yet, click on the "Sign up" blue button/link to create an account. If students have a Top Hat account, click the blue "Log in" button/link to connect their account to WebCampus.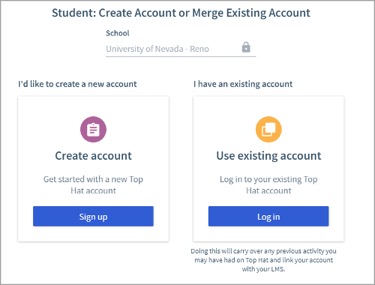 3. On the "Create your account" window, the student's name and email address will already be populated. Students can create a password in the password text box and click the checkbox next to "I agree with the Terms and Conditions." Finally, they can click the "Next" button/link.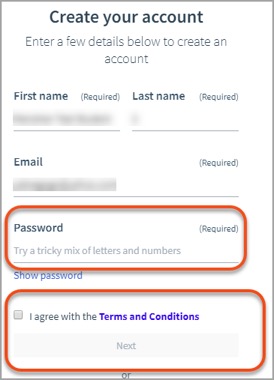 4. When asked for the Student ID, students should enter their NetID. Then click the "Next" button/link.
5. Users can can skip the next step. They do not have to provide your phone number. However, if users do not use a smart device, they need to enter their phone number so they can send the answer choices as text messages. It only works on some question types.
NOTE: Users may be charged for the text messages by their service provider.
6. The Top Hat account is now set up. Students can continue to purchase a subscription if they do not have one.