Top Hat for faculty
Faculty interested in trying Top Hat Classroom can access a hands-on demo and freely explore the features and functionality of the platform. For an individual demonstration, please contact Top Hat representative Tasha Eisen at tasha.eisen@tophatmonocle.com.
Register for a test drive of Top Hat
It is recommended that the Top Hat registration link be added to a module within your WebCampus course. Adding the registration link in a prominent place will help ensure that students complete the registration process and that Top Hat grades are synced to WebCampus.
Steps to adding a Top Hat registration link within a WebCampus course
1. In WebCampus, navigate to your course Modules page.
2. Create a module that will contain the Top Hat registration link (or use an existing module).
3. Click on the plus sign at the top of the module. See Figure 1 for a visual example.

4. In the Add Item dialog, select "External Tool" from the drop-down menu.
5. Scroll the list of tools and select "Top Hat."
6. Click on "Add Item" link.
See Figure 2 below for a visual example of steps 4-6.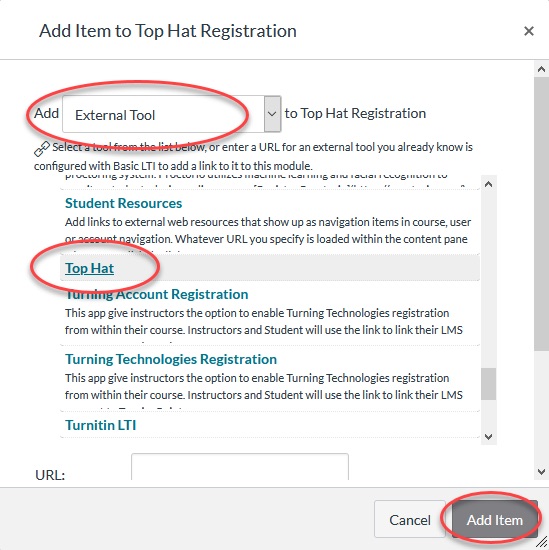 The Top Hat registration link will take students to a login or registration page. Once students have successfully registered and logged in, Top Hat will be linked to their WebCampus accounts. See Figure 3 for a visual example.

Figure 3. Screesnshot of the Top Hat registration link with green check marks.
---
Students use Top Hat app to participate in classroom polling activities. The app can be downloaded at the Apple Store/GooglePlay. Students can also use a web browser on the laptop to respond to polling questions. A subscription is required. The subscription fee is $26/term or $43/year (University pricing)
Every new professor that decides to use Top Hat receives a dedicated Top Hat instructional designer. The Top Hat team of 40+ instructional designers on-board, train and work one-on-one with instructors to ensure they're fully ready to use Top Hat for the first day of class.