January 2021
Happy New Year!
We wish our College community and international partners a healthy and productive year. Despite serious challenges facing academic institutions, we had many exciting developments in 2020. We are featuring events from 2020 and some new initiatives in our first international newsletter.
International Partnerships
We continued to work with our international partners throughout the pandemic. We had many meetings online where we discussed our current and future programs and opportunities. To show solidarity with students, we created a photo grid that included representatives from our College and 10 international partner universities. The photo grid displayed the message "Dear students, we may be miles apart, but together we can overcome anything."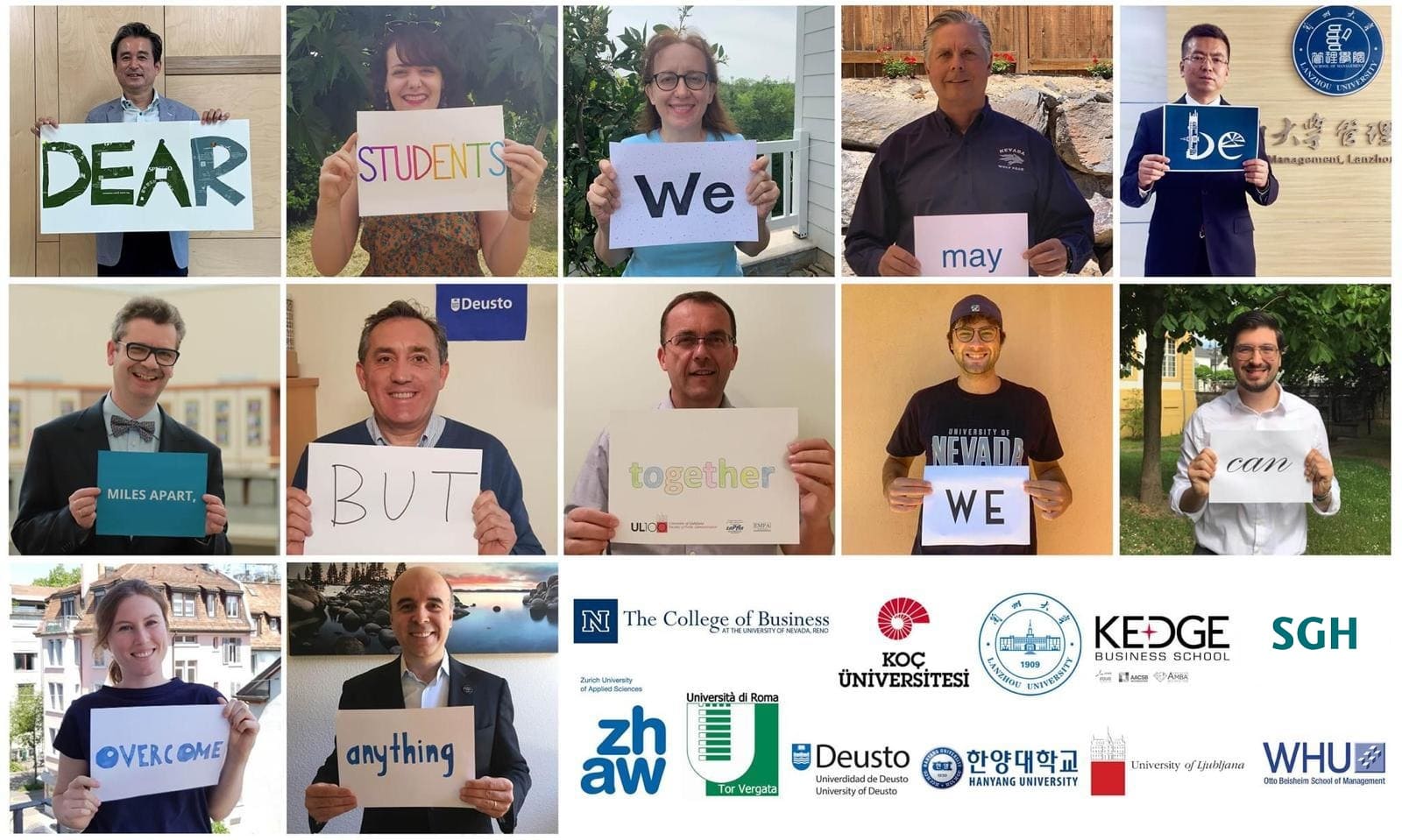 We received an extension on the Polish National Agency for Academic Exchange (NAWA) grant, which provides important funding for our joint research activities with our partner SGH Warsaw School of Economics in Poland. With that extension, we will be organizing a joint research symposium, which will be in a webinar format. The grant extension will also allow us to have another research meeting next Fall.
We started a new blog series in May 2020. This is a new initiative of the International Business Programs in the College of Business. So far we published 10 blogs that included contributions from the University of Nevada, Reno College of Business, SGH Warsaw School of Economics, and the University of Ljubljana. Our blog series featured a variety of topics including international education, partnerships, internationalization of universities, digital exclusion, export promotion services, tax systems, impact of pandemic on students, debt problems of developing economies, and business start-ups during the pandemic. In total, the blog posts received more than 14,000 page views.
NVGLOBE-L Launched

The Nevada Global Business and Economics Lab (NVGLOBE-L) was announced in the Europe-Nevada Global Summit in Croatia on March 6, 2020 and was launched in Fall 2020. NVGLOBE-L provides a platform for students and faculty to work on research projects. The goal is to connect students and faculty from the University of Nevada, Reno to those in our international partner universities. As research associates, students have the opportunity to conduct research with faculty, students and other scholars from UNR and our partner universities and institutions. There are currently two working groups under NVGLOBE-L. The first is the Tax Policy Working Group. The second is the Global Entrepreneurship and Public Policy Working Group which was established jointly with the International Division of the Nevada Governor's Office of Economic Development (GOED).
The Lab already started a webinar series jointly with the World Bank's Governance Global Solutions Group. The first UNR-World Bank webinar took place on October 8, 2020. Speakers included Dr. Serdar Yilmaz (The World Bank), Dr. Mehmet Serkan Tosun (University of Nevada, Reno College of Business), Dr. Sonja Pippin (University of Nevada, Reno College of Business), Dr. Pawel Pietrasienski, (SGH Warsaw School of Economics and Nevada Governor's Office of Economic Development), Dr. Raju Mainali (Missouri State University), and our students Dat Huynh (PhD, Economics) and Ethan Olesinski (Economics). A second webinar is planned for February.
Another new initiative is the NVGLOBE-L Distinguished Lecture Series. The lecture series will start in Spring 2021 and feature speakers who have made significant contributions to policy research and practice in academia, government and the business world.
Our faculty-led study abroad programs under the "Nevada Global Business" label were cancelled due to the COVID-19 pandemic. We hope to bring them back in 2021. In the meantime, the College of Business Study Abroad Programs Committee was busy streamlining our study abroad programs. The committee worked on evaluating the current programs, prepared new study abroad program guidelines and created application forms for proposing a new program and teaching in an existing program.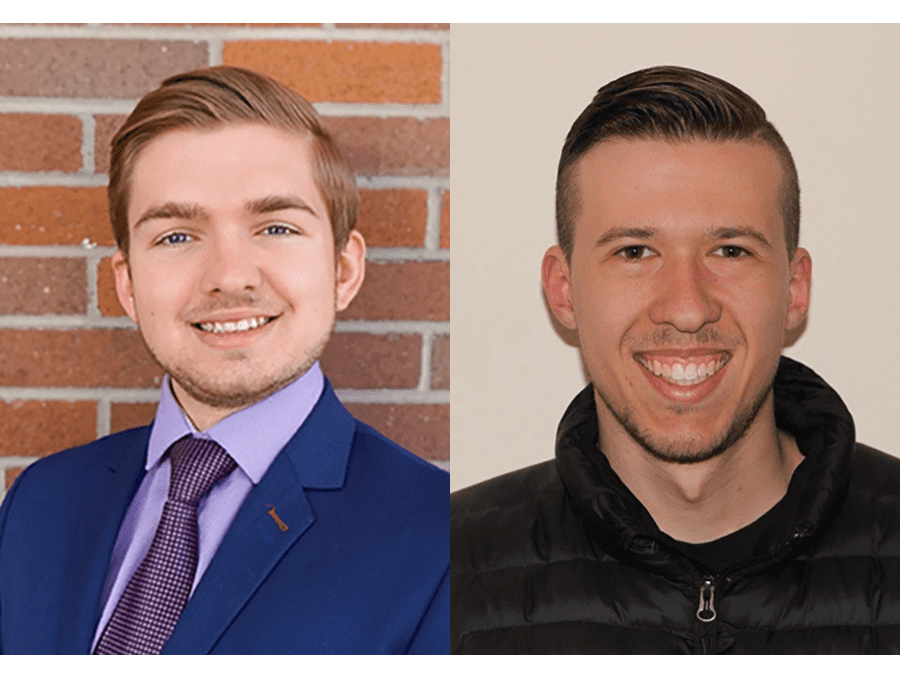 Two of our students, Oscar Loyd (international business) and Ethan Olesinski (economics), worked as interns in the International Division of the Nevada Governor's Office of Economic Development (GOED). This was another great example of the collaboration between the College of Business International Programs and GOED.
Upcoming International Events
NVGLOBE-L Distinguished Tax Policy Lecture "Does the World Need a World Tax Organization?" by Vito Tanzi, Honorary President of the International Institute of Public Finance. March 4, 2021.
International Women's Entrepreneurship Symposium (IWES): This is the second symposium and will involve some of our international partners including the SGH Warsaw School of Economics in Poland, Koc University in Turkey, and ZHAW School of Management in Switzerland. March 8, 2021
NVGLOBE-L Distinguished Tax Policy Lecture "Tax Policy Measures to Combat the SARS-CoV-2 Pandemic and Considerations to Improve Tax Compliance: A Behavioral Perspective" by James Alm, President, National Tax Association. March 26, 2021.
NVGLOBE-L Distinguished International Lecture (topic TBA) by Mary Daly, President, Federal Reserve Bank of San Francisco. April 7, 20201.
3rd UNR-SGH Warsaw School of Economics Research Symposium (virtual): The title of this year's symposium is "COVID-19 and the Economy: Impact on Business, Government and People." It will be a virtual symposium and will take place on April 22-23, 2021.

Sincerely,
Mehmet Tosun, PhD
Director of International Business Programs