Spring 2021 UNR Executive MBA Newsletter
Hello, UNR EMBA alumni, students, prospective students, and faculty!
Now that we are working our way diligently through 2021, it's time for a little update on the happenings of the Online EMBA program!
EMBA Alumni Spotlight
As you may already know, we are very proud of our EMBA alumni and we love to hear about and share their accomplishments. This newsletter's alumni spotlight is shining on Denis Phares and Sean Nichols of Dragonfly Energy. Denis and Sean met through the EMBA program, graduated in 2014, and went on to start their own green energy company together. We are excited to share a bit more about their journey with the EMBA community.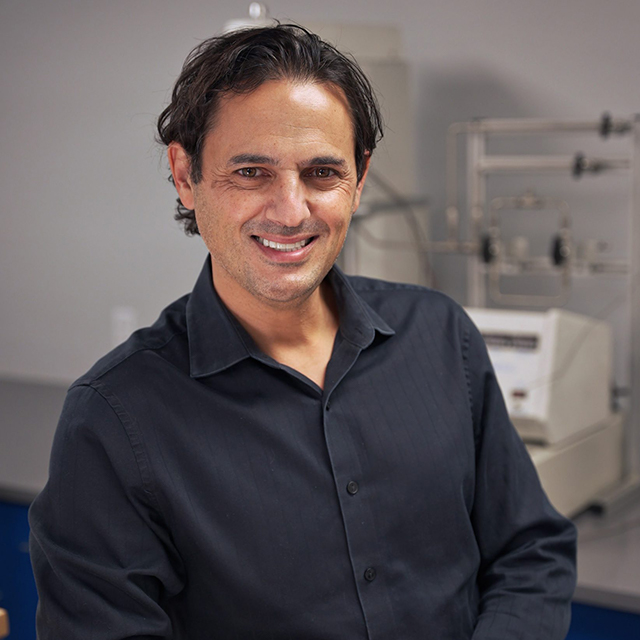 Denis Phares, can you please tell us a bit about yourself, your career, and why you chose to pursue an EMBA?
My original plan was to play guitar. After undergrad, I moved to LA to become a musician in the early 90s. I enrolled in graduate school at Caltech. It was fun and it paid the bills. By the end of the decade I had no record deal, but I did get a Ph.D. in Environment Engineering Science. I ended up doing a postdoc and becoming an engineering professor. For around 12 years, I studied the science and impact of air pollution, particularly atmospheric aerosols, on health and climate. I eventually decided I could make a faster impact on the world by starting a company. I tried doing that as a professor, but quickly realized I didn't speak the right language for business. So, I quit tenure and academia, moved to Reno, and decided to do it right by learning business.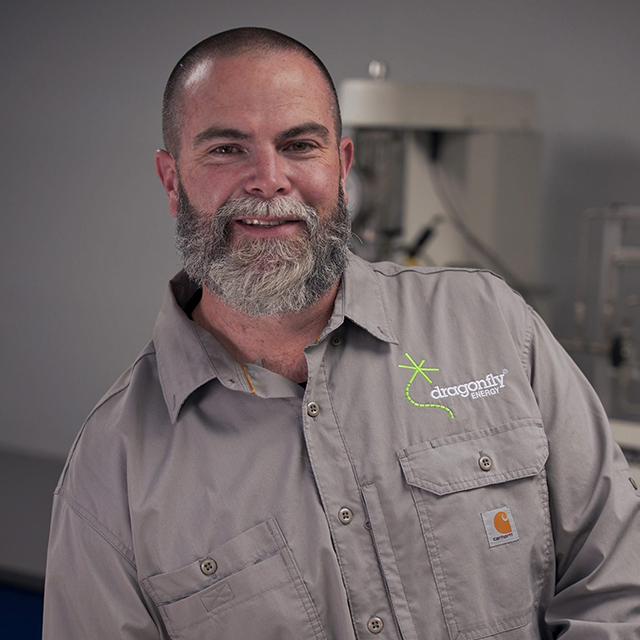 How about you, Sean Nichols? Can you please tell us a bit about yourself, your career, and why you chose to pursue an EMBA?
I was what I would call an untraditional student. I went back to school at age 34 to finish my Bachelor's Degree at Nevada, which I completed two years later. Then I applied in 2012 to the EMBA program with the idea of moving to a larger metro area to find more career growth opportunities. At the time I entered the EMBA program, I was a VP of a local green energy company. By the time I left the program, I had started a business with Denis and two years later, I quit my job and never looked back. It's funny because my plan all along was to get my MBA and use my existing business leadership experience to work for a large corporation, which sounds good. And then life happened and here I am today, the COO of Dragonfly Energy Corp, a company I helped launch with another member of my EMBA cohort. This is a much more exciting path.
Denis, what professional challenge has Dragonfly Energy faced recently, and how did you handle/overcome it?
COVID presented an enormous challenge for our business. We were extremely fortunate in that it did not disrupt sales. But it did disrupt everything else – supply chain, shipping, hiring, operations. We overcame these challenges by being very pragmatic. If we fell behind, we just dealt with it. We hired as rapidly as we could. We maintained an extremely clean and safe working environment to keep our essential staff safe. Anyone who could worked from home. We instituted strict protocols in the production warehouse. And we just moved forward. It was scary for a while, but we are stronger now than ever before.
What have you found most rewarding about your career?
Working for myself, innovating, and making a positive contribution.
How has the EMBA helped you in your career?
The EMBA program taught me what I needed to know to run a business. The knowledge I gained was practical and directly applicable to starting a company. I was really good at some of it, and not that good at the rest. But I did meet Sean Nichols in the program, and he nicely rounded out what I could not do efficiently on my own. The business plan competitions we entered as EMBA students were also critical in formulating the plan for the company.
What advice do you have for anyone interested in pursuing a career in your field?
First, find what you are passionate about. Passion helps you to weather the storm – and the storm will be brutal and evolving for an extended period of time. Then, even in the early phase, a solid and detailed plan is extremely important. It is important to have a plan for all aspects of the business – funding, cash flow, technology, sales and marketing, growth, etc. Have contingencies. Plan for the best and plan for the worst. But have a plan to execute.
Thank you, Denis and Sean! We're proud to count you as alumni and are impressed by all that you've achieved.
Each newsletter features one or two alumni who have come to our attention as exemplary leaders. If you would like to be featured, or know of someone who should be featured, please email your suggestions to Erin Aldrich.
---
The Online EMBA Program – A Decade of Success
This year, the Online EMBA program turns ten. In August of 2011, the very first cohort logged into their online EMBA classes and began laying the foundation for what has become a tradition of success. Two years later, that cohort of thirteen students received their EMBA diplomas and went on to use their degrees to make positive impacts in their careers, companies, and communities. Ten years later, the online EMBA program is thriving and is proud to report that over 200 students have not only followed suit, but have contributed their own skills, insights, and experiences to build a reputable and highly ranked online EMBA program. While the EMBA program has provided its students with a cutting-edge education in advanced business management over the past decade, its students have in return given the EMBA program its tradition of success. Each and every graduate has brought their own unique perspective to their classes, influencing their peers, their professors, and the shape of the EMBA program as a whole. The wealth of knowledge and skills the EMBA program has exchanged with its students, faculty, and staff, as well as the networks, innovations, and relationships that have stemmed from that exchange, cannot be overstated. We are thrilled and extremely grateful to share this ten-year anniversary with all of you, and we cannot wait to see where the next decade will take us. Thank you for being a part of this journey.
U.S. News & World Report 2021 Ranking
Each year, the U.S. News & World Report releases their ranking of the top online MBA programs. This year, the Online EMBA program at the University of Nevada, Reno is pleased to remain top ranked at #67. Every year, more schools are included in the ranking (there were over 320 this year!) and the competition gets stronger, but through the cutting-edge research and hard work of our faculty, students, and staff, we are able to keep well ahead of the competition. We strive to maintain the highest standards in online MBA education, and our ranking reflects this. Also, just in case you missed it, our Online EMBA program was ranked #40 by The Princeton Review this fall! Over 100 online MBA programs were surveyed, and we are thrilled to make their top 50 list. You can read more about our ranking in the NEVADA Today article. Thank you to everyone for contributing to the Online EMBA Program's success!
Upcoming EMBA Events
We've got a few events in our future to look forward to! Please note that the in-person events are tentative. They may need to move online, so please keep your plans flexible.
An EMBA Prospective Student Information Session via Zoom is scheduled for Thursday, March 18, 2021 at 4:00pm PT. If you have questions about the EMBA program or the application process, this is the perfect chance for you to hear from the experts! A few of our wonderful EMBA Alumni Ambassadors and current students will be there, as well as some of the EMBA faculty and staff. We look forward to connecting with you! Please join us on Zoom at 4pm PT on March 18.
The 2021 EMBA Graduation Ceremony & Reception is tentatively scheduled for Saturday, August 14, 2021. If held in-person, it will be in the Reno, Nevada area. This ceremony will celebrate the graduation of the Class of 2021 and more details will be sent to the graduates as the date gets closer.
The 2021 EMBA Fall Mixer is tentatively scheduled for Friday, September 24, 2021 from 6-8pm. If held in-person, it will be in the Reno, Nevada area. The annual Mixer is open to all EMBA alumni, current students, faculty, and prospective students. It's a great opportunity to network with your fellow EMBA team and to mingle with the EMBA faculty!
Also, the EMBA program will be hosting a virtual booth at the International Women's Entrepreneurship Symposium. The virtual symposium is Monday, March 8, 2021 from 8am-2pm. If you are attending the symposium and would like to drop by, please do!
Congratulations to the Upcoming Class of 2021!
In August, we will celebrate the graduation of 36 EMBA students. This is an impressive cohort! One year ago, daily life was upended by the COVID-19 pandemic, and yet not a single member of the Class of 2021 exited the program. They met all of the unexpected challenges that followed with grit and determination. This August, all of that hard work will culminate in their commencement. This cohort has proven that they are capable of sailing over whatever hurdles may lie in their way, and we are beyond thrilled to celebrate with them. Be proud, Class of 2021! You are amazing.
Great Work, Class of 2022!
We also have to give a shout out to the Class of 2022! They too are rising to the ongoing challenges that the pandemic brings and meeting them with firm resolution. You're doing an amazing job and we're grateful and proud to have such dedicated students in our program. Keep up the great work! Your graduation day will be here before you know it.
Happy Spring!
This time of year is always exciting, with the approaching graduation of one of our cohorts and the upcoming start of a brand new group of EMBA students. We are looking forward to the promising days ahead and are so thankful to each of you. The EMBA program is built on the hard work and dedication of its people, so thank you for all that you do to stay active and engaged as a member of the Online EMBA Team. If you have any questions, suggestions, or comments, please feel free to reach out to Dr. Raffiee and Erin Aldrich. We would love to hear from you.
Stay safe, everyone! And thank you for your time.
Sincerely,
Kambiz Raffiee, PhD &
Erin Aldrich