March 2022 Executive MBA Newsletter
Hello, University of Nevada, Reno EMBA alumni, students, prospective students, and faculty!
Now that we are about a quarter of our way through 2022, let's take a quick look at what the Online EMBA Program has been up to.
EMBA Alumni Spotlight
As always, let's first check in with one of our amazing alumni! Every day, our alumni make us proud and we are thrilled to be able to connect with them and share their accomplishments with the world. This newsletter's alumni spotlight is shining on Mindy Haffke, a Professional Engineer and Client Executive with IMEG Corp. Mindy graduated from the EMBA program in 2020 and has made amazing progress in her field since. We are excited to share a bit more about her journey with you.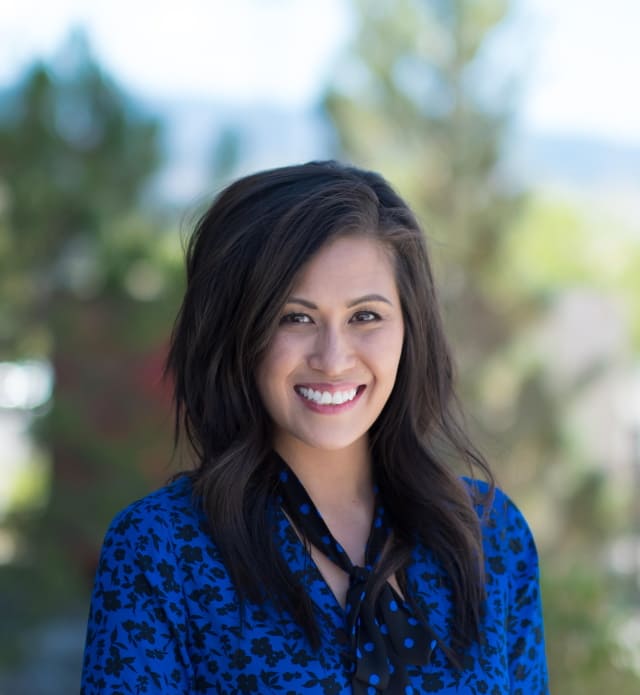 Can you please tell us a bit about yourself, your career, and why you chose to pursue an EMBA?
Reno is where I call home with the beautiful mountainous area and four seasons. Born in San Diego, I didn't know what to expect when my family moved us to Reno. I took up snowboarding and fell in love with the snow. It was natural that I stayed close to home and continued higher education at the University of Nevada, Reno, where I earned my undergraduate degree in Mechanical Engineering. During pursuit of this degree, I began interning in the gaming industry designing and manufacturing slot machines. With this being my first professional job, I learned everything I could. Within 10 years, I obtained seven patents and my Professional Engineering (PE) license in the state of Nevada. Knowing that I wanted more experience, I then moved on to emergency equipment, focusing on plumbing design and project management. While managing projects for an $8.5M business segment, I recognized the need to enhance my business acumen. I was aware of the MBA program that the University had to offer, but was worried about time management with the traditional program and working fulltime. Thankfully, the Executive MBA program at the University allowed me to do both!
Shortly after starting the Executive MBA program, I realized the company I was working for was not a great fit and I needed to make my next move. I immediately sought out other opportunities where I could utilize my PE license with a company that promotes growth and values my skillset. After a short search, I found interest in the built environment and switched industries. It was a risky move because I had to start as an entry level Mechanical Engineer, quickly learn Mechanical/Plumbing design and code for buildings, all while focusing on the EMBA program. It wasn't easy managing the fast-paced learning expected of me, but I stayed focused and before I knew it, I was stamping drawings. With high risk is high reward – changing industries and continuing my education have been the best career moves I've made to date.
After graduating from the EMBA program in 2020 and only 2 years in this industry, our company began their merge with IMEG, a top 5 nationwide engineering firm. This merger presented more opportunities for me. With an EMBA degree and PE licenses in two states, I was chosen to lead our Las Vegas firm. I am now a Principal and Client Executive leading a Team of 30 employee-owners.
What professional challenges have you faced recently, and how did you handle/overcome them?
After being promoted to Principal and Client Executive, I was faced with the challenges of leading a new Team, managing the merger of our company with IMEG, learning a new position, and moving to Las Vegas within four weeks. I didn't think I was ready. Amid these challenges, a proud mentor told me, "Success happens when opportunity meets preparedness." He reassured me that my previous experience and current credentials would support me throughout this endeavor; I just needed to accept the challenge. I took everything one step at a time and had endless support from my husband, family and friends.
Among several challenges that came with this new position, gaining the trust of my Team had the most obstacles. I remembered what Bret Simmons taught us in our Organizational Behavior class – what motivates versus discourages employees and the Bruce Tuckman model of group development (Forming - Storming - Norming - Performing). Keeping these tools in mind, I was able to persevere. I spoke to each team member to get to know them on a personal level. We "Formed" when I arrived, we "Stormed" getting to know each other, we "Normed" as we gained understanding, and now, after almost a year, we are "Performing." I believe effective communication, respect, compassion and strong decision-making skills make a great leader earn the trust of a Team.
What have you found most rewarding about your career?
The most rewarding part of my career is mentoring and training employees to perform at their highest potential to be successful. Encouraging and supporting everyone on your Team not only helps their personal development, it motivates them to deliver superior quality of work. Seeing team members achieve their goals makes every challenging day worth it.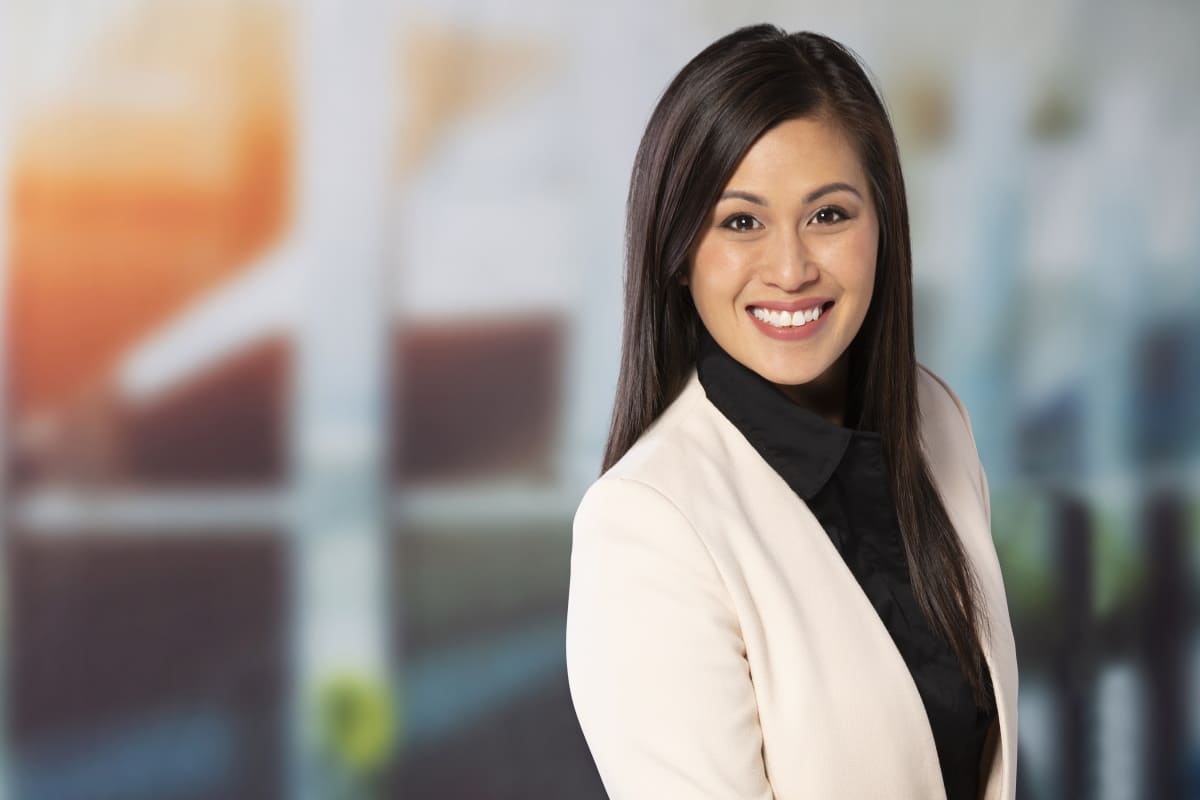 How has the EMBA helped you in your career?
I strongly believe that without the EMBA program, I would not have been considered for the position I am in. I am proud to say that I am currently the youngest Client Executive at IMEG and one of four females (55 total) in this role.
It is important for me to show others that being a female minority can be an empowering trait. When applying for the EMBA program, the opening paragraph of my admissions letter stated that I wanted to change the face of Engineering. I hope to show others with a background like mine that hard work truly pays off. We must strive above and beyond the average to gain respect in any industry. I know that without my strength, experience, engineering licenses and education, I wouldn't be here today.
What advice do you have for anyone interested in pursuing a career in your field?
I would like to share the following quote that has guided me during times of uncertainty – "What would life be if we had no courage to attempt anything?" (Vincent Van Gogh)
For anyone interested in pursuing a career in my field, changing careers, or attempting anything new, you will never know where life will take you if you don't try. Once you make the first step, you must follow through with hard work and dedication. This cycle will continue until you find where you're meant to be. It won't be easy, but it will be worth it. I am destined to be with IMEG and it's incredible what making the first step can do for your career.
I'm thankful for the lessons I have learned, the people who have helped launch my career, and the EMBA program for giving me the knowledge to be confident in myself while taking risks. My goal was to change the face of Engineering and here I am!
We're hiring! We have opportunities for qualified candidates in all engineering disciplines and roles; become an employee-owner with us today. Visit our company website (IMEG Corp.) for more information.
---
You are truly an inspiration, Mindy! Thank you! Thank you for all the wonderful progress you are making in such an important field. We're proud and lucky to count you as an alum and are impressed by all your hard work and achievements.
Each newsletter features one or two alumni who have come to our attention as exemplary leaders. If you would like to be featured, or know of someone who should be featured, please email your suggestions to Christie Chaump.
U.S. News & World Report 2022 Ranking
Every winter, the U.S. News & World Report releases their ranking of the top online MBA programs. This year, the Online EMBA program at the University of Nevada, Reno is thrilled to announce our solid ranking at #62. More schools are included and the competition gets more intense each year, but through the strong academic foundations of our faculty and the hard work and excellence of our students, we are able to outperform the competition. We thrive on maintaining the highest standards in online MBA education, and our ranking reflects this. You can read more about this accomplishment in the NEVADAToday article.
Also, just in case you missed it, our Online EMBA program was ranked #46 by The Princeton Review this fall! We are thrilled to make their top 50 list again. Thank you to everyone for contributing to the Online EMBA Program's success!
Upcoming EMBA events
We've got a couple of events to look forward to!
An Online EMBA Program information session will be held via Zoom on Thursday, March 31, 2022 at 4 p.m. Pacific time. This is your chance to ask questions and hear from the experts about the ins and outs of the EMBA program and the application process. We look forward to chatting with you! Please join us on March 31 by following the Zoom link below.
Online EMBA information session Zoom link
The Annual Spring Graduate Student Banquet is on Friday, May 6, 2022 at 5:30 p.m. RSVP information will be sent to current EMBA students in the coming weeks.
The 2022 EMBA Graduation Ceremony & Reception is tentatively scheduled for Saturday, August 13, 2022 from 2-4 p.m. The location is to be determined, but it will be in the Reno, Nevada area. This ceremony will celebrate the graduation of the Class of 2022 and more details will be sent to the graduates as the date gets closer.
The 2022 EMBA Fall Mixer is planned for a Friday in late September 2022 from 6–8 p.m., most likely at the Atlantis Casino Resort Spa. The annual Mixer is open to all EMBA alumni, current students, faculty, and prospective students. It's a great opportunity to network with your fellow EMBA team and to mingle with the EMBA faculty! More details will be sent as the date gets closer.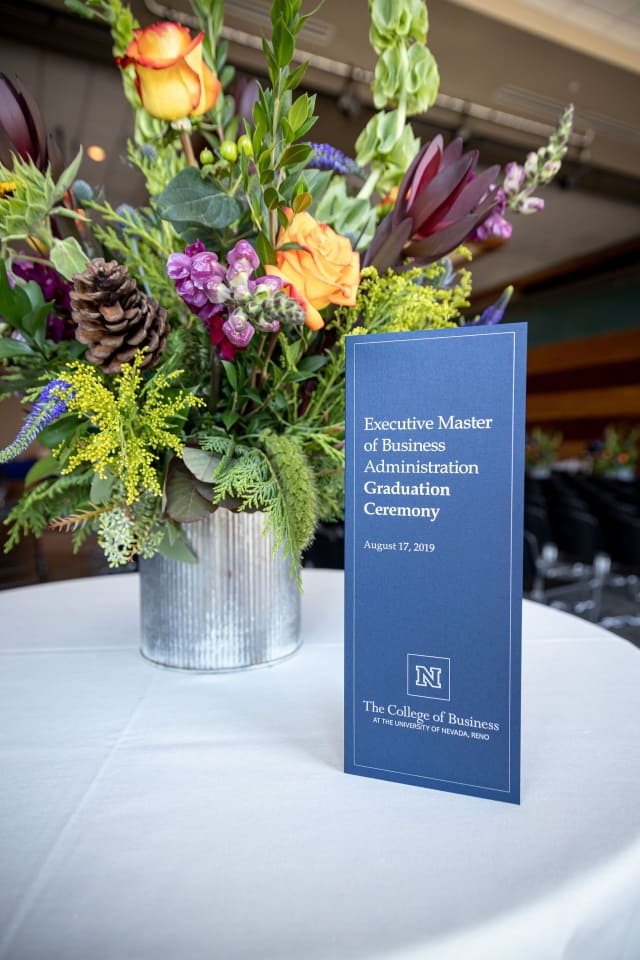 Congratulations to the upcoming Class of 2022!
In August, we will celebrate the graduation of 38 EMBA students. The Class of 2022 has impressed us throughout their EMBA journey. They have excelled through the entire program with the added hardships of the pandemic, and they have met all of the unexpected challenges confidently and admirably. This August, all of their strength, determination, and hard work will culminate in their commencement. This cohort has proven that they are capable of taking extreme challenges and turning them into opportunities to learn and grow. We can't wait to honor them and their achievements. Congratulations, Class of 2022! Amazing work.
Great work, Class of 2023!
We also owe a big shout out to the Class of 2023! They too are proving to be a resilient and hardworking group that's quick to adapt and adjust, readily meeting challenges head on. Excellent job so far, Class of 2023! We're grateful and proud to have each of you in our program. Keep at it! Your graduation day will be here before you know it.
Happy spring, and welcome Christie Chaump!
This time of year is always exciting, with the approaching graduation of one of our cohorts and the upcoming start of a brand new group of EMBA students. This spring is also exciting because we get to welcome Christie Chaump aboard as the new MBA and EMBA Program Coordinator for the College of Business. Welcome, Christie! She is learning the ropes and is taking over the EMBA coordination responsibilities, so please include her (cchaump@unr.edu) on your EMBA-related emails. She is completing her own MBA degree and we are fortunate to work with her.
I (Erin) will be phasing out of the EMBA program over the month of March. It has been a delight to work with all of you over the past four years. Thank you for making my time with the EMBA program meaningful and rewarding. I will truly miss working with this outstanding team.
All of us involved in the EMBA program are looking forward to the promising days ahead. We know that the EMBA program is built on your curiosity, dedication, and hard work, so thank you for all that you do. If you have any questions, suggestions, or comments, please feel free to reach out to Dr. Raffiee and Christie. And, for a little while longer, Erin. We would love to hear from you.
Be well, everyone! And thank you very much for your time.
Sincerely,
Kambiz Raffiee, Ph.D.,
Christie Chaump, &
Erin Aldrich