December 2020
Hello, UNR EMBA alumni, students, prospective students, and faculty!
Here we are! We just passed the finish line of the fall semester and are settling in for winter. Whether you finished the EMBA program years ago, are in the midst of your studies, or are dreaming of one day earning your EMBA, we always look forward to checking in with you and hearing from you. Whenever you find yourself with a bit of spare time, please take a look at some of the EMBA highlights from the past few months.
EMBA Alumni Spotlight – New Feature!
If it's not already obvious, we are very proud of our EMBA alumni, and we love to hear about and share their accomplishments. This newsletter's alumni spotlight is shining on DeShawn Reed. DeShawn graduated from the EMBA program in August of 2020 and we were fortunate to have the opportunity to learn a bit more about his crucial role with the Washoe County School District.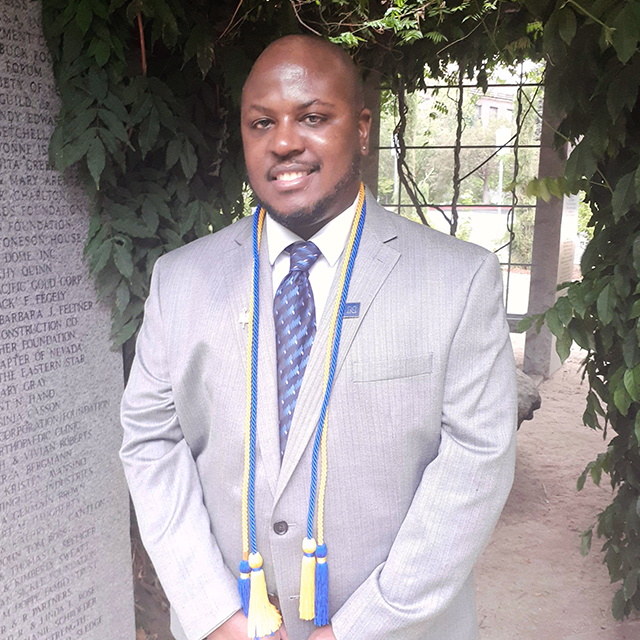 Can you please tell us a bit about yourself, your career, and why you chose to pursue an EMBA?
My name is DeShawn Reed. I originally grew up in Denver, CO and Northern California but have resided in Reno now for 15 years. Prior to moving to Reno, I served in the Army and was stationed in Germany for four years. I worked in personnel and helped my unit facilitate all manners of human resource transactions. Today, I work for the Washoe County School District as a manager in the Office of Human Resources.

While I have had a variety of experiences, I chose to pursue an EMBA looking to learn some new skills, stimulate my intellectual curiosity and to continue my quest for improvement. I wanted to hone my management skills and learn some techniques to motivate, engage and lead my team. Simply put I wanted to work toward becoming a better leader. I also felt the EMBA program would provide a prime opportunity for me to reinvent myself and establish new connections.

What professional challenge(s) have you faced recently, and how did you handle/overcome it?
It is often said, "that a good thing about crisis is that it forces you to get out of denial and you have to face the questions." The global pandemic has forced many to do just that. Over the last few months many organizations and departments within those organizations have completely transformed their workforce to remote work from home. The significance of this cannot be overlooked. The logistics to accomplish such a feat are mind-boggling. You must identify and provide the necessary equipment and office resources. You have to coordinate with IT to have the appropriate software, including added security apparatuses like Virtual Private Network (VPN) connection client to maintain secure remote access to the organization's network. You then must adequately train staff. All this while trying to maintain operations.

And this only gets at the logistical mechanisms of remote work. There is a management and emotional component when dealing with remote employees that is equally—if not more so—important. An organization must ensure that it is still engaging with its employees remotely, especially at the backdrop of the Coronavirus Pandemic, which brings along its own special toll. Our team jumped in and did not miss a beat. Our leadership created a daily Newsletter that went out to the team every day. This correspondence served to 1. Prioritize Communication 2. Set Clear Expectation 3. Recognize Good Work 4. Encourage Work/Life Balance. 5. Demonstrate a Collaborative Culture. These all reflect standards that the Society for Human Resource Management (SHRM) put out recently in a guide on how to continue to engage employees during the Coronavirus Pandemic.

Additionally, the pandemic forced us to look at a number of our processes and convert them to electronic processes or automate them. So even as we have returned to the office, we have seen a vast improvement in the cycle time of many of our regular transactions. Actions that may have taken weeks previously are being accomplished in days or hours. As a result, our team is much nimbler and more responsive. Increasing our overall efficiency has been a great "Silver Lining."

What have you found most rewarding about your career?
The thing I find most rewarding about Human Resources is the ability to touch/influence almost every part of the organization. As a Human Resources (HR) practitioner, I am blessed with the opportunity of leading and existing at the intersection of people, places, and practices. HR is better situated than any other profession to create positive change for employees and organizations.
Doug Conant, CEO of Campbell Soup Company and thought leader amongst the business ranks famously stated, "To win the marketplace, you must first win the workplace." His message is simple. It gets at the heart of what organizations need to do to find success. People. It is all about the people. If you adequately take care of your "Human Capital" the rest will take care of itself. Through inspirational content we can leverage our unique position to create better workplaces for all. You can't spell HeRo without HR! This is what I love about my profession.

How has the EMBA helped you in your career?
The EMBA has made me more strategic. I have learned new skills that have vastly improved my quantitative and qualitative reasoning and approach to problems in general. This is extremely beneficial when it comes to assessing various business processes. What are the crappy systems and lousy processes that need to be looked at to help address organizational challenges? Additionally, I believe the EMBA has helped boost my level of engagement. The numerous business case studies and projects we worked on throughout the course were very stimulating and re-invigorated my interest and desire to lead and help come up with solutions in my own work and career.

What advice do you have for anyone interested in pursuing a career in your field?
"It is never the wrong time to do the right thing." Although a large portion of HR deals with compliance which is pretty black and white, there are a lot of situations that you will come across that are very gray. It is important to develop a broad knowledge base across the various functions of HR even if you specialize in one. Having broad knowledge and experience will help you navigate different situations more easily. For instance, your specialty may be recruiting for example but having some knowledge around performance management will make you a better recruiter. When you are faced with situations where it is not abundantly clear what the solution is, having broad knowledge and focusing on the "what the right thing is," will best see you through.
Thank you, DeShawn, for your excellent, meaningful work and for being so dedicated to improving the conditions for our local teachers, especially during such a challenging time. You are truly impressive.
Each newsletter features one or two alumni who have come to our attention as exemplary leaders. If you would like to be featured, or know of someone who should be featured, please email your suggestions to Erin Aldrich.
---
The Princeton Review's 2021 Ranking
In the fall, over 100 universities with online MBA programs were surveyed by The Princeton Review in order to be ranked. We recently learned that our Online EMBA program was ranked #40! This is a true honor, and we couldn't have reached this ranking without the hard work and dedication of our excellent students, alumni, faculty, and staff. You have all helped us to reach this goal. Thank you for all that you have done to strengthen the program. You can read more about this special honor in the NEVADA Today article, as well.
EMBA Website Update
Our wonderful Web Marketing and Graphic Design specialist Allie has done a great job of updating the EMBA website. What may be of particular interest to you is the EMBA Testimonials page, which includes alumni testimonials and statements on the EMBA program. We have also revised the EMBA Alumni Ambassador section of that page with our new ambassadors. A big thank you to the graduates who volunteer their time as ambassadors to discuss their EMBA experiences with our future students. We recognize how significant your role is and we truly appreciate it. If you are interested in becoming an EMBA Alumni Ambassador, or if you'd like to be connected to an ambassador, please email Erin Aldrich. We'd love to hear from you!
Upcoming EMBA Events
We are hoping for an in-person future! And so our 2021 EMBA events are currently being planned for in-person gatherings. Of course, that may have to change depending on the pandemic.
The 2021 EMBA Graduation Ceremony & Reception is currently scheduled for Saturday, August 14, 2021 from 2-4pm at the Atlantis Casino Resort Spa in Reno, Nevada. This ceremony will celebrate the graduation of the Class of 2021. More details will be sent to the Class of 2021 as the date gets closer. Stay tuned!
The 2021 EMBA Fall Mixer is in the process of being scheduled for a Friday evening in late September or early October, 2021. We are hoping to secure a date soon and we will let you know as soon as we can. The annual Mixer is open to all EMBA alumni, current students, faculty, and prospective students. It's a great opportunity to network with your fellow EMBA team and to mingle with the EMBA faculty. More details to come!
Congratulations to the Class of 2020!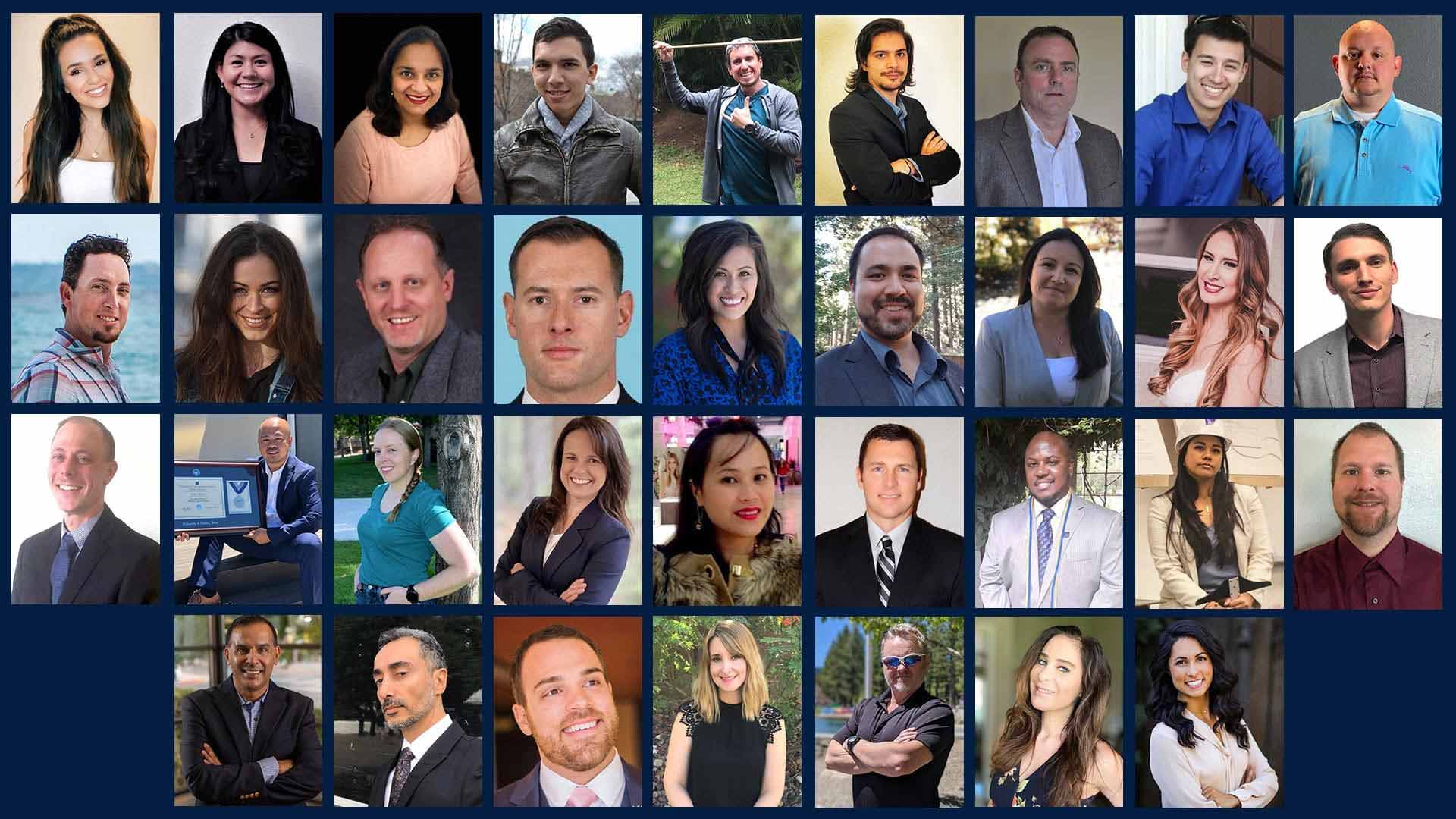 In case you missed it, the EMBA program saw 34 students graduate in our online Graduation Ceremony in August. We'd like to again recognize and congratulate this class on all of their hard work, especially in the final two semesters when so much was thrown off balance by the COVID-19 pandemic. They handled the upheavals admirably. Plus, Benjamin Bezilla, Ian Fitzgerald, Jodi Patton, DeShawn Reed, and Lali Sekhon received the 2020 Outstanding EMBA Student Award for their excellent academic performance throughout the program. Great job! Congratulations to the Class of 2020 and we hope that you are all enjoying the fruits of your hard work. Also, a special shout out and congratulations to EMBA instructor Jim McClenahan, who received the 2020 EMBA Excellence in Teaching Award for his remarkable teaching and achievements. Thank you for all that you do, Jim!
Great Work, Class of 2021 and Class of 2022!
We'd like to take a moment to just say thank you and great job to our continuing and new cohorts, the EMBA Class of 2021 and Class of 2022. They have continually impressed us with their determination and strength, especially given all of the challenges and distractions of the current world. Keep up the impressive work! You're doing an amazing job and we're grateful and proud to have such dedicated students in our program.
Happy Holidays!
Finally, thank you to everyone for your involvement in the UNR Online EMBA program! You are what makes the EMBA program what it is. We hope that you and your loved ones can spend some time together this holiday season, whether in-person, online, or in your hearts. Please know that Dr. Raffiee and Erin Aldrich are always delighted to hear from you. Reach out any time if you have any concerns, questions, exciting news, or family-friendly jokes.
Happy holidays to everyone!
Sincerely,
Kambiz Raffiee, PhD &
Erin Aldrich