Equipment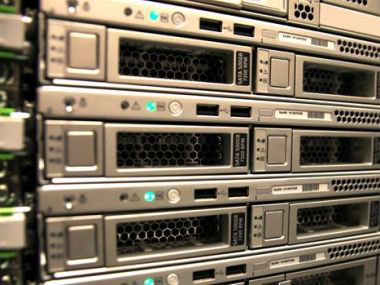 Computational Resources
The bioinformatics center computing resources are among the most advanced on the University of Nevada, Reno campus. We have four high-performance staff workstations, five visitor desktops, and twelve servers that run state-of-the-art software for biomedical and life science research.
The heart of the operations are our servers. Their combined resources amount to 240 CPUs, 1.4TB RAM, 140TB storage, and they are interconnected with a 10 Gigabit network. Each server is configured in one of three roles: computation, storage or infrastructure.
The compute servers are pooled to form a single cluster of 128 CPUs and 768GB RAM. This cluster is operated by Core staff and is used for client jobs and software development.
The data is stored on three distributed storage clusters. Data begins life on our 7TB high-performance cluster that is designed to fully utilize our 10Gbps network and maximize our compute cluster performance. Once jobs are completed, they move to our 40TB, highly redundant, long-term storage cluster. This cluster is backed up by our 40TB backup and archiving system.
The infrastructure servers provide the following services: virtualization, remote file transfer, web, databases, source control, logging, monitoring, alerting, virtual private network, cluster scheduling, and authentication. Their work is not glorious, but their services form the foundation of our streamlined system.
High performance computing
The Nevada Bioinformatics Center has also made a Tier 1 investment in the University's high performance computing initiative, by which we use and share access to the 2048 CPU Pronghorn HPC system, drawing from our 384 CPU-year, 64 TB storage allocation, with additional Pronghorn capacity purchasable on-demand.