Jim McCormick's Collage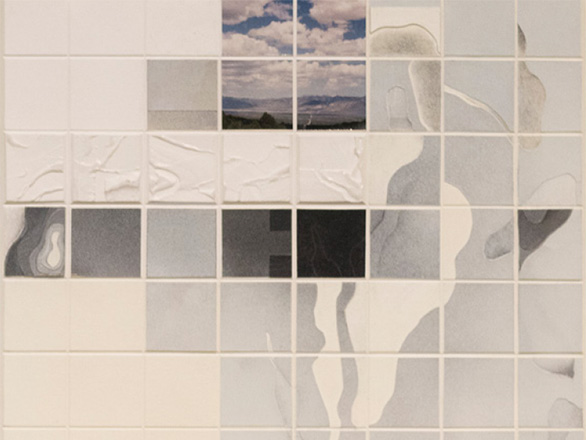 This week's #TheLilleysArtAtHome is inspired by this collage from our permanent collection by Jim McCormick, titled "Inset: Range with Clouds," from 1993. McCormick was an important member of the arts community in Reno for many decades. He was an artist, art professor at the University of Nevada, Reno and a founding member of the Nevada Arts Council. Below, you will find instructions on how to make your own collage that is inspired by Jim McCormick's legacy.
Questions
If you could create a collage out of an image, what image would you want to disassemble and why?
How different does the new image look from the old image? How much (or how little) did you change the original image?
Were you able to notice more details when the work became separated into smaller pieces? If so, what did you notice?
Supplies
Paper to cut into squares: image from coloring book, magazine, newspaper, or the internet
Ruler
Pencil
Scissors
Glue
Paper for new collage base
Steps
Have your child tear out a page from a coloring book, magazine, or newspaper. You could also print out an image that you find from the internet. Alternative: Have the child make their own design/image.
Use a ruler to make eight straight lines that are vertical and horizontal on the image you've chosen.
Cut the material into the squares made from the lines you drew.
Reassemble the squares onto a new blank sheet of paper in a design of your choosing.
Share your masterpiece with us by posting on social media and tagging us @TheLilleyMuseum #TheLilleysArtAtHome