The Artists
Hyeyeon Park, piano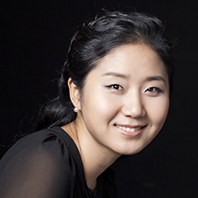 Selected as an Artist of the Year by the Seoul Arts Center, Hyeyeon Park has been described as a pianist "with power, precision and tremendous glee" ( Gramophone). She is a prizewinner of numerous international competitions, including Oberlin, Ettlingen, Hugo Kauder, Maria Canals, Prix Amadèo and Corpus Christi, and her performances have been broadcast on KBS and EBS television (Korea) and RAI3 (Italy), WQXR (New York), WFMT (Chicago), WBJC (Baltimore) and WETA (Washington, D.C.) radio. She is artistic director of Apex Concerts (Nevada) and a professor of piano at the University of Nevada, Reno. Her first solo CD, Klavier 1853, has been released on the Blue Griffin label.
Joshua Anderson, clarinet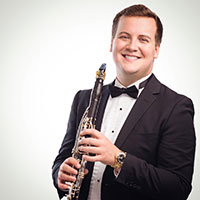 Joshua Anderson is an active orchestral and chamber musician and has given performances in such venues as Carnegie Hall and Lincoln Center's David Geffen Hall. Joshua holds the position of Principal Clarinet with the Reno Philharmonic and has played under the baton of such conductors as Valery Gergiev and Peter Oundjian. As a chamber musician, Joshua has performed internationally alongside members of the New York and Berlin Philharmonic Orchestras. He is a member of the Four Corners Ensemble, which was recently in residence at the Shanghai Conservatory of Music and is an artist member of the Jimo Ancient City Chamber Music Festival in Qingdao, China. Additionally, he is currently a member of the International Clarinet Festival 2022 Artistic Leadership Team, which is preparing for the ICA 2022 Festival in Reno, Nevada.
Joshua has worked as a teaching artist for Yale's Music in Schools Initiative, the MPulse Clarinet Institute, the Flatirons Chamber Music Festival Young Artist Program and the Lake Tahoe Music Camp. He currently serves on the faculty of the University of Nevada, Reno as Assistant Professor of Clarinet and is an artist member of the instrumental branch of the Collaborative Piano Institute held at Louisana State University.
Joshua attended the Interlochen Arts Academy and holds degrees from the Peabody Conservatory, the Yale University School of Music and the University of Michigan, Ann Arbor. He is a Backun Artist and performs on Backun Lumière Clarinets
Romie de Guise-Langlois, clarinet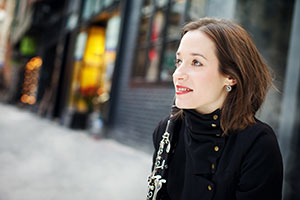 Praised as "extraordinary" and "a formidable clarinetist" by The New York Times, Romie de Guise-Langlois has appeared as soloist and chamber musician on major concert stages throughout the U.S., Canada, Europe,and Asia. She has performed as soloist with the Houston Symphony, the Burlington Chamber Orchestra, the Guanajuato Symphony Orchestra and Ensemble Connect; at Festival Mozaic, Music@Menlo, Banff Center for the Arts and the Chamber Music Society of Lincoln Center. She won Astral Artists' National Auditions and was awarded First Prize in the Houston Symphony Ima Hogg Competition. She also captured the top prize in the Woolsey Hall Competition at Yale University, the McGill University Classical Concerto Competition and the Canadian Music Competition, and was the recipient of the Canadian Broadcasting Corporation award. Ms. de Guise-Langlois is a Yamaha Artist and her performances have been broadcast on WNYC, WFMT, WQXR, Houston Public Radio, Vermont Public Radio and across Canada on Radio-Canada. An avid chamber musician, Ms. de Guise-Langlois received prizes at the Plowman Chamber Music Competition and at the Fischoff National Chamber Music Association. She is an alumnus of The Bowers Program at the Chamber Music Society of Lincoln Center and has toured with Musicians from Marlboro. Ms. de Guise-Langlois has appeared on the concert series of the Philadelphia and Boston Chamber Music Societies, the Chamber Music Society of Lincoln Center, Chamber Music Northwest, the Ottawa Chamber Music Festival, the Kennedy Center, the Royal Conservatory, Ravinia Festival, the 92nd Street Y, Music@Menlo, the Metropolitan Museum of Art, Carnegie Hall, Wigmore Hall and the Concertgebouw. Ms. de Guise-Langlois has collaborated with such distinguished artists as Mitsuko Uchida, Yo-Yo Ma, Jeremy Denk, David Shifrin, Peter Wiley, Scott St. John, Viviane Hagner, the Brentano Quartet, the Miro Quartet, the Danish Quartet and the Silk Road Ensemble. She has performed as principal clarinetist for the Orpheus Chamber Orchestra, the New Haven and Stamford symphony orchestras, the Orchestra of St. Luke's, NOVUS NY and The Knights Chamber Orchestra.
A devoted educator, Ms. de Guise-Langlois engages communities as a clarinet professor, performer and teaching artist. She has given master classes in Asia, Canada and the U.S. and has been on the faculty of Kean University, the Colorado College Summer Music Festival, Norfolk Chamber Music Festival and Montclair University. She has been part of the Musical Connections program of Carnegie Hall and is an alumnus of Ensemble Connect. A native of Montreal, Romie de Guise-Langlois received a Bachelor of Music degree from McGill University. She also holds a Master of Music degree, supported by the Canada Council of Arts and an Artist Diploma from the Yale School of Music. Her principal teachers include David Shifrin, Michael Dumouchel and André Moisan. Ms. de Guise-Langlois presently serves as Assistant Professor of clarinet at the University of Massachusetts, Amherst.
David Shifrin, clarinet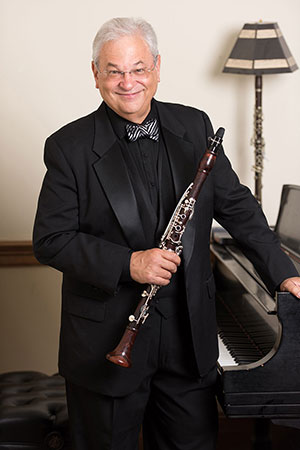 Winner of both the Avery Fisher Career Grant (1987) and the Avery Fisher Prize (2000), David Shifrin is in constant demand as an orchestral soloist, recitalist, chamber music collaborator and educator. Mr. Shifrin has appeared with the Philadelphia and Minnesota Orchestras and the Dallas, Seattle, Houston, Milwaukee, Detroit, Fort Worth, Hawaii and Phoenix symphonies among many others in the US; and internationally with orchestras in Italy, Switzerland, Germany, Japan, Korea and Taiwan. He has also received critical acclaim as a recitalist, appearing at such venues as Alice Tully Hall, Zankel Hall at Carnegie Hall and the 92nd Street Y in New York City, as well as at the Library of Congress in Washington D.C. A much sought-after chamber musician, he has collaborated with such distinguished ensembles and artists as the Guarneri, Tokyo, Emerson, Orion, Dover and Miro String Quartets, trumpeter and composer Wynton Marsalis, and pianists Emanuel Ax, Andre Previn and André Watts. An artist member of the Chamber Music Society of Lincoln Center since 1989, David Shifrin served as its Artistic Director from 1992 to 2004. He has toured extensively throughout the U.S. with CMSLC and hosted and performed in several national television broadcasts on PBS's Live From Lincoln Center. He concluded his tenure with Chamber Music Northwest in Portland, Oregon in summer 2020 after having been the festival's Artistic Director since 1981. He is currently also the Artistic Director of the Phoenix Chamber Music Festival. In addition, he has served as principal clarinetist with the Cleveland Orchestra, American Symphony Orchestra (under Stokowski), the Honolulu and Dallas and New Haven symphonies, the Los Angeles Chamber Orchestra and the New York Chamber Symphony. David Shifrin joined the faculty at the Yale School of Music in 1987 and since 2008 has been Artistic Director of the Chamber Music Society of Yale and Yale's annual concert series at Carnegie Hall. He has also served on the faculties of The Juilliard School, University of Southern California, University of Michigan, Cleveland Institute of Music and the University of Hawaii. Mr. Shifrin has been instrumental in broadening the repertoire for clarinet and orchestra by commissioning and championing the works of 20th and 21st century American composers including John Adams, Joan Tower, Stephen Albert, Bruce Adolphe, Ezra Laderman, Lalo Schifrin, David Schiff, John Corigliano, Bright Sheng, Ellen Zwilich, Alvin Singleton, Hannah Lash, Martin Bresnick, Aaron Jay Kernis, Valerie Coleman, Richard Danielpour and Peter Schickele. Mr. Shifrin's recordings on Delos, DGG, Angel/EMI, Arabesque, BMG, SONY and CRI have consistently garnered praise and awards. He has received three Grammy nominations and his recording of the Mozart Clarinet Concerto with the Mostly Mozart Festival Orchestra, performed in its original version on a specially built elongated clarinet, was named Record of the Year by Stereo Review. Recent releases include the Beethoven, Bruch and Brahms Clarinet Trios with cellist David Finckel and pianist Wu Han on the Artist Led label and a recording for Delos of works by Carl Nielsen, which includes the first recording of the Nielsen Clarinet Concerto arranged for chamber orchestra. In 2018, Delos released a recording of three clarinet quintets which were written for Mr. Shifrin by Peter Schickele, Richard Danielpour and Aaron J. Kernis with the Miro, Dover and Jasper Quartets respectively, as well as a second volume of clarinet quintets featuring David Schiff's arrangement of Duke Ellington pieces. In early 2021, the Musica Solis label will release a recording of original music and several newly arranged works for clarinet by Francis Poulenc. In addition to the Avery Fisher Prize, David Shifrin is the recipient of a Solo Recitalists' Fellowship from the National Endowment for the Arts and the 2016 Concert Artist Guild Virtuoso Award. He received an Honorary Membership by the International Clarinet Society in recognition of lifetime achievement and at the outset of his career, he won prizes at both the Munich and the Geneva International Competitions. He is also the recipient of Distinguished Alumni Awards from the Interlochen Center for the Arts and the Music Academy of the West in Santa Barbara and a Cultural Leadership Citation from Yale University. In January 2018 he received the Richard J. Bogomolny National Service Award at the Chamber Music America Conference, an award which recognizes an individual or entity who has provided historic service to the small ensemble music field. Mr. Shifrin performs on a Backun "Lumiere" cocobolowood clarinet made by MorrieBackun in Vancouver, Canada and uses Légère Reeds exclusively.
Dmitri Atapine, cello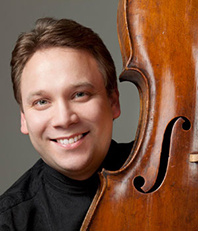 Dmitri Atapine has been described as a cellist with "brilliant technical chops" (Gramophone), whose playing is "highly impressive throughout" (The Strad). He has appeared on some of the world's foremost stages, including Alice Tully Hall at Lincoln Center, Zankel and Weill halls at Carnegie Hall and the National Auditorium of Spain. An avid chamber musician, he frequently performs with the Chamber Music Society of Lincoln Center and is an alum of The Bowers Program (formerly CMS Two). His multiple festival appearances have included Music@Menlo, La Musica Sarasota, Pacific, Aldeburgh, Aix-en-Provence, Nevada and Cactus Pear, with performances broadcast in Spain, Italy, the U.S., Canada, Mexico and South Korea. His many awards include the first prize at the Carlos Prieto Cello Competition, as well as top honors at the Premio Vittorio Gui and Plowman chamber competitions. He has collaborated with such distinguished musicians as Cho-Liang Lin, Paul Neubauer, Ani and Ida Kavafian, Wu Han, Bruno Giuranna and David Shifrin. His recordings, among them a critically acclaimed world premiere of Lowell Liebermann's complete works for cello and piano, can be found on the Naxos, Albany, MSR, Urtext Digital, Blue Griffin and Bridge record labels. Atapine holds a doctorate from the Yale School of Music, where he was a student of Aldo Parisot. The artistic director of Apex Concerts and Ribadesella Chamber Music Festival, he is the cello professor at the University of Nevada, Reno.
David Finckel, cello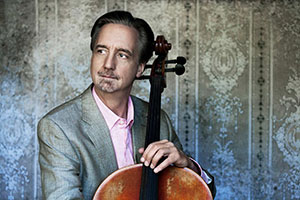 Cellist David Finckel's multifaceted career as concert performer, artistic director, recording artist, educator and cultural entrepreneur distinguishes him as one of today's most influential classical musicians. He is a recipient of Musical America's Musician of the Year award. David Finckel appears annually at the world's most prestigious concert series and venues, as both soloist and chamber musician. He tours extensively with pianist Wu Han and in trios with Philip Setzer. Together with Wu Han, David serves as Co-Artistic Director of The Chamber Music Society of Lincoln Center (CMS). Under his artistic leadership, CMS is celebrating three global broadcasting initiatives bringing chamber music to new audiences around the world, via partnerships with Medici TV, Radio Television Hong Kong and the All Arts broadcast channel. He is also Co-Artistic Director of Music@Menlo, the San Francisco Bay Area's premier summer chamber music festival and institute. In the Far East, David Finckel serves as founding Co-Artistic Director of Chamber Music Today, a festival in Seoul, South Korea. David Finckel's wide-ranging musical activities include the launch of Artist Led, classical music's first musician-directed and internet-based recording company. BBC Music Magazine recently saluted the label's 20th anniversary with a special cover CD featuring David and Wu Han. Through a variety of educational initiatives, David has received universal praise for his passionate commitment to nurturing the artistic growth of countless young artists. Under the auspices of CMS, he led the LG Chamber Music School from 2009-2018, which served dozens of young musicians in South Korea annually. David is professor of cello at The Juilliard School and artist-in-residence at Stony Brook University. From 2013 to 2018, he led an intensive chamber music studio at the Aspen Music Festival and School. David served as cellist of the Grammy Award-winning Emerson String Quartet for 34 seasons.